Not just cats and dogs. Can you give a home to our 'unconventional' pets?
Could you offer a new home to a snake, a cockerel, a lovebird¿ or a pig?
Throughout October, we've been highlighting animals in our care as part of our Adoptober rehoming campaign - from horses, dogs, cats and small furries.
People know us mostly as a cat and dog charity
As the month draws to a close, we're shining a spotlight on our more 'unconventional' pets who need a new home.
Chris Sherwood, our chief executive, said:
We're well known for rehoming cats and dogs - after all these are the animals we rehome the most. However, we find the right homes for animals of all different types, including reptiles, birds and even farm animals.
Our 'unconventional' pets who need new homes will all have different needs, sometimes complex, and will need a home where they can thrive. But if you adopt from us, either from our national centres or any of our branches around the country, you'll have all the information and advice you need to ensure your new pets are happy and healthy.
Last year, we rehomed 39,178 animals last year - which equates to 3,264 a month, 753 a week, 107 every day or four an hour.
During lockdown, our online find a pet saw a huge increase in people searching for animals to adopt. Searches for farm animals on the website increased by 73% compared to last year, and searches for reptiles increased by 74%.
Be unconventional with our more alternative pets
Have you got room in your life for one of our animals? Here are some of the more unusual animals we have looking for new homes...
General Cluckingham the cockerel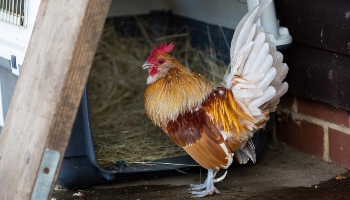 One-year-old bantam cockerel General Cluckingham is currently at our Leybourne Animal Centre in Kent. 'General C' as he's affectionately known - was found as a stray so we took him in. He's been through a lot so can be a little wary of people. He'd like a new home with a flock of hen to call his own and a nice big, secure coop and run. He's looking for owners who can slowly build his trust and confidence around people.
He may be a small breed but he has a big personality and is desperate for a family of hens to join.
For more about General Cluckingham check out his online profile or email leybourne@rspca.org.uk.
Rick the lovebird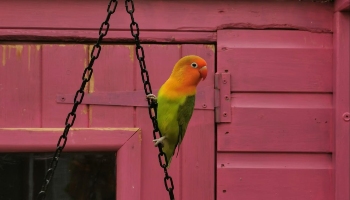 Lonely Rick is a lovebird who's looking for love! He has been at our Stubbington Ark animal centre since June and he's looking for a friendly lovebird with whom he can share his aviary. He enjoys spreading his wings for a flap around but he'd love to do this with another feathered friend. For more information see his online profile.
Tommy Hilpigger the pig
Tommy Hilpigger was taken into our care after his welfare needs were not being met. He was taken to a farm in Derby and is now waiting for someone to give him his forever home.
The farm caring for Tommy Hilpigger has said that he is a very kind boy, and gets on well with other pigs so for this reason we are looking for a home with at least one other pig.
Tommy will need continuous access to windproof and waterproof covered shelter and a clean, dry, well-bedded lying area. When the weather is warm Tommy will need to be provided with adequate shelter from the sun, as pigs are prone to sunburn and sunstroke. Tommy also has longer hair than the average pig, so it's important to make sure he doesn't overheat.
If you're interested in adopting Tommy Hilpigger, visit his online profile or email southridge@rspca.org.uk.
(Please note there are strict laws regarding the keeping, identification, and transport of pigs so potential adopters must be aware of this.)
Rankin dragons and ball python
We currently have a number of reptiles needing new homes - including Rankin dragons and ball python snakes.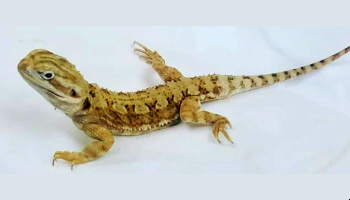 Rankin dragons are similar to bearded dragons except that they're smaller and social with other Rankin dragons. Rankin dragons eat a mixture of greens and live invertebrates, so you must be prepared to feed these to your lizard.
Ball pythons eat dead mice and rats so you must be prepared to feed these to your snake.
Exotic animals will need a vivarium of a certain size which will need to be kept at a specific temperature. Anyone wanting to rehome an exotic animal will need to be knowledgeable about the particular species.
All reptiles rehomed from us will have been health checked by a vet.
Mark and Mike the ducks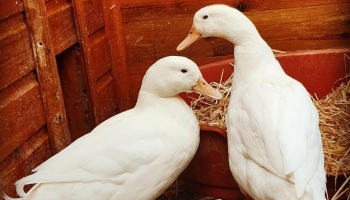 Mark and Mike are two male ducks looking for a home together, they'd need a large water source and lots of space. They came to the centre after not getting on with the other male ducks they'd been living with, therefore they'd prefer to either live with females or just by themselves. These boys are really inquisitive and love to know what's going on, they also have a lot to say when you're around them. Mike is a Pekin duck and Mark is a Pekin duck probably crossed with a runner duck as he stands up higher when moving around.
They are currently being looked after at our West Dorset branch - Taylor's Animal Rehoming Centre, in Dorchester. For more info, visit their online profile.
Malibu the parakeet parrot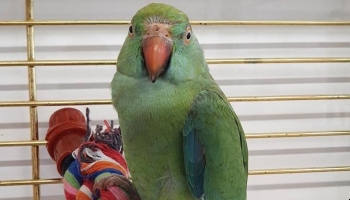 Malibu was found as a stray so we have no background information. Unfortunately, an owner never came forward so Malibu is on the lookout for a new home. She doesn't appear to have had any handling before and she's quite a nervous and vocal bird. She'd be suited to a large aviary and could possibly live with other birds of a similar breed.
An owner who has had previous experience with this type of bird is essential. She's being looked after by our Blackpool and North Lancs branch. For more information, visit her online profile.
Rehoming
Under the current Covid rehoming protocols anyone interested in fostering or adopting an animal from us should see which animals are available near you and check with their local centre for the current process applicable in that area.
Due to the amount of interest we're receiving and the impact of Covid on our staffing levels, please bear with us as our centres are very busy at this time. To find out more please see our coronavirus page.
To offer one of our rescue animals a new home please see our find a pet to find your perfect match.
You don't have to rehome to help
If you're not in a position to give a pet a home this October, you can still help thousands of animals in our care by:
sponsoring a dog kennel or cat pod for just £1.50 a week
or supporting the work of your local RSPCA.
---