Bun Affleck and fur-iends seek homes
A rescue rabbit called Bun Affleck is hoping to find his leading lady in time for Christmas.
The three-year-old albino bunny is one of 36 rabbits that staff and fosterers at our Newbrook Farm Animal Centre in Birmingham are caring for.
Fifteen of them, including Bun, were rescued by our officers from a house in Rhonda Cynon Taff in July, after they were discovered living in wire mesh cages without access to bedding, environmental enrichment or suitable protection from the weather.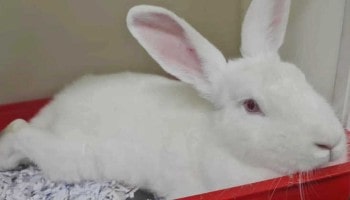 Three of the females were later found to be pregnant and subsequently gave birth to 21 babies between them.
Their owner, who had also failed to provide appropriate veterinary care for the rabbits, who were suffering from conditions including conjunctivitis, dermatitis, lameness and neurological disease, was prosecuted and given a three-year ban on keeping rabbits.
Having received little handling prior to coming into rescue, it has taken months of care and patience by staff and fosterers to build up the rabbits' confidence and get them ready to start new lives with loving owners.
Two have already been rehomed and a further 10 are now ready for adoption; the remaining rabbits will also be available once they have been neutered.
Centre supervisor Emma Finnimore said: "We initially took in 15 rabbits which had led a pretty miserable life in barren cages with little human contact or socialisation. That number then increased dramatically when we discovered that three of the females were pregnant and subsequently gave birth to 21 babies."
She added:
Our wonderful foster carers have been looking after the mums and babies and have played a crucial role in their care and socialisation. The whole group have come on in leaps and bounds and really deserve to find lovely new homes.
The centre relies heavily on foster homes and is always looking for more people who would be interested in this role.
Bun Affleck and a number of his friends are now looking for new homes:
Chelsea Bun
Three-year-old Chelsea loves to sleep all day in her litter tray and then have some fuss or a cuddle. It doesn't take long until she is fully relaxed and begins to fall asleep. She doesn't enjoy being picked up and will stomp and grunt at you, although this just adds to her personality! Chelsea had a litter of babies in rescue and has now been neutered. She would best suit a home with secondary-aged children (if any) and could also live with a friendly male bunny, providing the introduction is done correctly and slowly.
Maddie and Marilyn Bunroe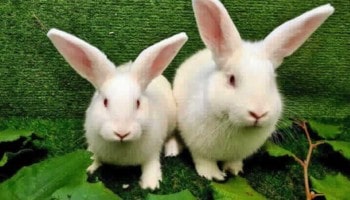 Following her rescue, three-year-old Marilyn was found to be pregnant and gave birth to eight babies. She's formed a particular close bond with her only daughter, Maddie, so the pair are looking for a new home together. It's clear Marilyn hadn't been handled and she can panic. But once settled, she enjoys being groomed, fussed and binkying around with her baby.
Three-month-old Maddie is still young, but getting better with regular handling. They could be rehomed to a family with older primary school-aged children, provided there is adult supervision.
Mitch, Mason, Marshall and Malcolm
This litter of friendly and inquisitive three-month-old boys were born at the animal hospital after one of the rescued female rabbits was found to be pregnant. All of them enjoy a gentle fuss and pottering around for tasty vegetable treats.
As long as there is adult supervision to continue their handling, Mitch, Mason, Marshall and Malcolm could be rehomed - in pairs - with young children.
---