Ex-breeding bitch left blind finds love again
An ex-breeding bitch who was dumped on a train station platform covered in sore scabs and suffering from a horrific eye infection that left her blind has now found her forever home and learned what love really is.
The eight-year-old Jack Russell terrier, who was named Penny by her rescuers, was taken into a vet clinic in Waltham Abbey on 4 December 2020 after being dumped on a platform at the train station.
Inspector Jen Wildman - who rescued Penny - said: "A woman told vets she'd seen the little terrier being left at the train station by a woman who then jumped onto a train and left the platform.
"We believe Penny had spent her whole life as a puppy factory, churning out puppy after puppy. I suspect she's never known real love or life as a proper pet; until now. She was in such a state: her whole body was covered in sore scabs and scrapes, and she had awful infections in both ears and eyes."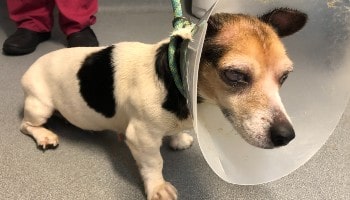 Jen rushed Penny to our London Animal Hospital where vets found her untreated eye infections had left her completely blind. Despite an investigation, no one was ever traced in connection with Penny's case.
Penny spent weeks at the hospital where she had to have both eyes removed. After moving to Cotswolds Dogs and Cats Home for rehoming, Penny was snapped up by Steph Lane, from Cheltenham, Gloucestershire.
She said: "I've never had a dog before but I'd always wanted one and knew it had to be a rescue. I'd been checking the Cotswolds Dogs and Cats Home website and when Penny's photo popped up I just fell in love with her.
"I thought they'd have loads of applications and that I wouldn't stand a chance so when they told me they thought I'd be a good match for her I was elated. Her whole situation just broke my heart, her story was so sad. She had suffered so much and I wanted to give her a nice, secure home where she would feel safe."
Penny will be spoiled this Christmas - just as she deserves!
Penny went to her new home in February 2021, and Steph hasn't looked back!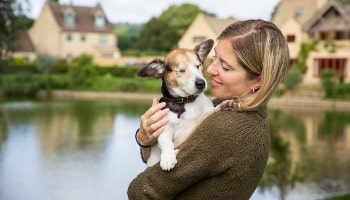 She said: "She is a little madam and can be very feisty, but she is so sweet and very affectionate. Despite what people have done to her in the past, she loves people. She would sit on my lap all day if she could; she wants to be touching you at all times.
"She loves lots of attention; although she will let you know if you annoy her! She likes to have someone with her all the time but I work from home so luckily I'm around most of the time to keep her company."
She now has daily medication to help manage her skin condition and has had some problems with ear infections.
Stephanie added: "If her ears are sore then that can really throw her off as she relies so heavily on her hearing now she has lost both of her eyes. But thankfully they are getting better now.
"She still loves to go out for walks. Initially she couldn't walk very well but we've spent time helping her become more confident without her sight and now she flies out the door at walk time. She zooms along. And she gets lots of attention from other people, they're always drawn to her and want to know her story. She loves the fuss!"
Christmas is looking a lot brighter for this little pooch this year. Stephanie said: "Penny will certainly be spoiled this Christmas; she'll have her own little presents wrapped up under the tree and I'm sure she'll get some special treats while we're eating our lunch. She loves frozen peas so I expect I'll sneak her some of those!"
Stephanie added:
Penny is the greatest Christmas gift I could have ever asked for; and I'm so glad that finally, after so many years of hardship and neglect, that, this year, Penny will finally spend Christmas surrounded by love.
Join the Rescue this Christmas and help us save more animals like Penny
Despite the nation being lockdowned at home last December, we still received one call every minute, one report of an abandoned animal every hour, and took 70 rescue animals into RSPCA care every day; just like Penny.
We've since seen abandonment levels rising to almost pre-pandemic levels and fear this festive season will be even more devastating for animals as pet ownership has soared which could lead to even more now-unwanted pets being left out in the cold, left to fend for themselves while owners travel to visit family over the four day holiday, or neglected due to stretched family budgets.
Please help us rescue more animals like Penny and Join the Rescue this Christmas to keep our officers on the road responding to emergency calls.
---