Blackberry Farm Animal Centre celebrates 25 years of saving animals
¿RSPCA Blackberry Farm Animal Centre is celebrating a major milestone of 25 years of saving animals and during that time they have rehomed more than 20,000 animals from dogs, cats to small furries.
Staff at the shelter, which occupies a 10-acre site overlooking the rural villages of Waddesdon and Quainton in Buckinghamshire, are hoping that their milestone celebrations can be topped with the perfect gift of finding their long-stay dog Maxy a new home.
Over the years staff and volunteers at the centre have helped thousands of rescue animals who have gone on to be placed in loving new forever homes.
Each and every rescue animal found a special place in the hearts of the staff and volunteers who helped them on their journey of recovery.
From Moses the overweight cat to nervous Stanley the staffie - staff have helped these animals to find incredible new homes where they have been given a second chance to thrive.
While celebrations have had to be muted due to the current lockdown restrictions for the pandemic, staff have said that the best gift they could ask for is to find crossbreed Maxy a new home.
Maxy celebrated his 10th birthday on 1 May - and has now been in the care of the centre now - more than 500 days.
Maxy is the centres unluckiest dog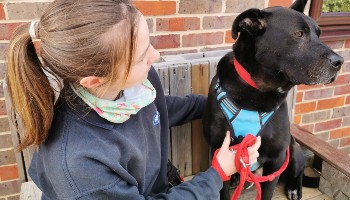 Despite interest for Maxy, dubbed the unluckiest dog, the centre has still been unable to find him the right home.
He arrived at the centre just two days after Christmas in 2019 with his beloved best friend Skyla.
He'd spent his whole life outside working as a guard dog on a scrapyard and has never been in a family home. He'd never been walked and was overweight, but has lost almost 10kg since being at the centre.
Lauren Atkins, who is taking care of Maxy, said: "Maxy and Skyla had spent their whole lives living in a yard. Skyla was elderly and had a lot of health problems when she arrived here. We tried our best to help her but, in the end, she was so poorly that vets felt the only and kindest option was to put her to sleep.
"Maxy loved her so much, they were inseparable. When we lost her he was lost and found himself on his own for, what we believe, was the first time ever. He's struggled ever since we lost Skyla and our behaviour team have been working with him to help prepare him for a new home."
Maxy has made great strides in his progress thanks to the dedicated patient care of the staff at the centre - but he is in need of a retirement home where he can relax and live out the rest of his life with a big garden and lots of love.
Staff are unsure if he's ever been in a home before. Maxy is a very sweet affectionate boy who certainly does not act his age. He just loves cuddles and attention staff hope he will find a forever home soon.
Find out more about how to adopt Maxy.
Supporters have helped the centre help thousands of animals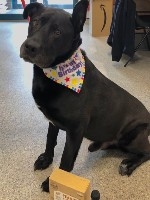 Centre manager Julie Allen said: "Over the years we have seen lots of dogs like Maxy come and go and it's incredible really to think how many animals have been rehomed from our centre over the past 25 years.
"Blackberry Farm has been a real lifeline for so many neglected, unwanted abandoned animals and each one has had their own unique story to tell.
"I am so very proud of all we have achieved over the years and the many wonderful animals we have helped.
"I'm very proud of our dog training classes which have helped lots of owners over the years.
"I would also like to thank the people who have supported us throughout the years - because as a charity we just wouldn't be able to do what we do without them.
So thank you to all the volunteers, fundraisers, supporters and adopters - you have helped to make a huge difference to literally the lives of thousands of animals. Let's hope we can continue to do this for another 25 years and beyond.
Chief Inspector Rob Hartley said: "I cannot praise enough the work of the team at Blackberry Farm - they have helped so many animals that inspectors have rescued from cruelty and neglect.
"The care the animals receive is just incredible and we love to see how much these animals are able to be turned around and learn to love and trust again despite some of the awful horrors they have been through."
If you would like to help the team at Blackberry Farm celebrate their milestone you can make a donation through a number of ways through the centre's Amazon wish list - for dogs, cats and others - or the centre's JustGiving page.
---