Tougher sentencing Bill completes Commons stage
We're celebrating after the long-awaited Animal Welfare (Sentencing) Bill completed all stages in the House of Commons today and now moves forward to the House of Lords.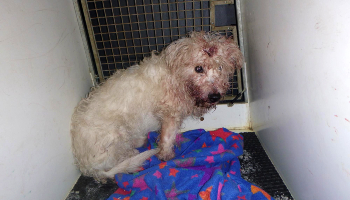 The Bill - which was brought forward by Chris Loder MP - completed its House of Commons phase, meaning it'll now move to the House of Lords for the next stage.
The landmark step comes four years after the UK Government pledged to reform the maximum sentence for those prosecuted under the Animal Welfare Act in England, increasing maximum prison terms from six months to five years. Along with other welfare organisations, we've long been campaigning for tougher sentencing, a move which was supported by cross-party politicians.
In Wales, the Welsh Government is expected to put a legislative consent motion before the Welsh Parliament - meaning any change in the law in England would likely apply in Wales too.
Some of the lowest sentences for animal cruelty offences
Heidi Allen, our director of advocacy and policy, said:
England and Wales - a nation of self-described animal-lovers - has, for far too long, lagged behind other countries when it comes to sentencing those responsible for some of the most unimaginable cruelty to animals.
Northern Ireland, the Republic of Ireland, Scotland and most of Europe have increased their maximum sentences to five years and we've long been campaigning to bring sentences here in England and Wales in line.
England and Wales currently have some of the lowest sentences for animal welfare offences in the world.
Heidi continued:
"Each year we investigate around 100,000 complaints of cruelty to animals, including incidents of unspeakable violence as well as harrowing cases of neglect and abuse.
"We're thrilled that the Sentencing Bill is now one step closer to being introduced and that, soon, animals will be better protected and courts will have stronger sentences at their disposal when passing judgement on the worst animal abusers.
"We believe all parties wish to get the Bill onto the statute book in this parliamentary session - before the next Queen's Speech which is expected in May - because MPs and Peers agree with us that no suffering animal can afford to wait another minute.
"It's time the sentences imposed on individuals who cause pain and suffering to animals reflect the severity of the crimes they are committing because current sentences available are completely inadequate."
Horrific acts against animals need more than just six months
Some of the animal welfare cases we've prosecuted in recent months include:
A tiny kitten violently attacked by her owner and left with bleeding, missing teeth, chest trauma, bruising around her neck and injuries consistent with attempted drowning.
A man who stabbed his dog to death and buried the body in the back garden was sent to prison. The Staffie had five wounds to the neck, legs and throat and could have been bleeding any time from a few minutes to a few hours. The attack seemed to have been triggered by the dog biting the owner when he was drunk.
A man who burned a cat in a hot oven, tried to flush her down the toilet, attempted to strangle her and threw her against the wall was given a suspended prison sentence. The cat was taken to the vet and found to have third-degree burns and loss of skin. The owner admitted putting her in the oven for up to five minutes. The magistrate called him a "dangerous man" and said her sentencing powers were insufficient for the offence.
A dog left bleeding and with a fractured hip after being beaten by kitchen utensils. Two men received suspended jail sentences.
Sign up for our campaign emails to get updates about the future of this campaign and other ways to improve animal welfare.
---