'Bewildered' Shar Pei tied to a tree and abandoned at countryside car park
A 'sweet-natured' Shar Pei dog is being cared for by the RSPCA after her owner tied her to a tree and drove off.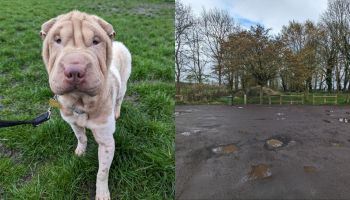 The female dog was found by a member of the public at the Trans Pennine Trail Car Park on Monday 27 March.
Suffering from a severe flea infestation, which was irritating her skin and causing her to itch, she is now doing well in the care of the animal welfare charity after receiving veterinary treatment.
A microchip revealed her name was Flower, although the details had not been kept up-to-date. However, the RSPCA has been able to establish that the three-year-old dog was sold online to someone in the Scunthorpe or Rotherham area about 18 months ago.
Enquiries have been made at the scene and the charity is appealing to anyone who recognises Flower - who was tied up with a red 'Wainwrights' rope lead - to get in touch.
RSPCA animal rescue officer Hannah Williams, who is looking into the incident, said:
Flower is a friendly and sweet-natured dog but, not surprisingly, she was bewildered and anxious at first by what had happened to her. We think it's highly likely she was abandoned, rather than having gotten lost and been tied up by someone, and we'd urge anyone who has information that could help our investigation to contact us.
Given the rural location, the person responsible will probably have driven to the location, so maybe someone saw her being taken out of a car and can give us details about a possible vehicle.
RSPCA officers are responding to an increasing number of abandoned pets as the cost of living crisis continues to bite - but the animal welfare charity has warned the public this is never the answer.
Hannah added:
We understand the financial difficulties some people are experiencing right now, however abandoning your pet is not acceptable. There is help and support available and we would urge people to contact their vets, local rescues and animal welfare charities.
Anyone who has information about Flower is urged to call the RSPCA's appeals line on 0300 123 8018.
Last month, the charity received 1,324 reports of abandoned animals - up 8% from February 2022. The cost of living crisis is the single biggest challenge for animal welfare right now. To help pet owners who are worrying about financial costs, there is information on the RSPCA's cost of living hub. Alternatively, you can call the charity's dedicated cost of living call line on 0300 123 0650.
To help the RSPCA continue rescuing, rehabilitating and rehoming animals in desperate need of care please visit our website or call our donation line on 0300 123 8181.