Be #DogKind as fears of 'biggest welfare crisis of a generation' loom
We're urging the UK's pet owners to be #DogKind to prepare our pooches for change and avoid the 'biggest dog welfare crisis of our generation' as we begin to plan for a return to work and normal life.
We're re-launching the #DogKind campaign and we've released more tips and a video to help owners prepare their pets for life after lockdown.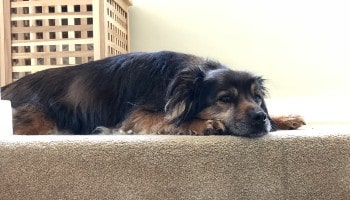 Our dog welfare expert Dr Samantha Gaines said: "Our pets have been such a support to us during lockdown, a time that has been incredibly difficult and has taken its toll on our mental health. Now, this World Mental Health Week (10-16 May), we're urging owners to consider their four-legged friend's mental health and think about what they need to prepare them for life post-lockdown."
Research suggests that around eight in 10 dogs find being left home alone difficult, and some may exhibit behaviours associated with stress and anxiety, such as barking, toileting in the house, or being destructive.
Dr Gaines added:
Sadly we know that many dogs find being left alone difficult and we fear that the pandemic may have worsened this. Our dogs have got used to us being at home most if not all the time and those taken on during lockdown may never have experienced being left home alone. Even dogs who were seemingly happy when left by themselves before the pandemic may struggle once life returns to normal and that's why we're urging owners to be DogKind, to understand their pet's needs and to prepare now.
She continued: "If not, we fear the biggest dog welfare crisis of our generation. Visits to our dog behaviour and behaviourist pages online are already rising and we know that one of the main reasons owners relinquish their dogs to rescue centres or abandon them is due to behavioural problems and we believe that separation related behaviour is one of the biggest behavioural issues in today's dogs.
"Many dogs value a predictable routine knowing what is happening when and they can be incredibly sensitive to any changes in routine so, with more lockdown restrictions due to ease this month and an end to lockdown in sight, we're encouraging dog owners to start making gradual changes now and to ease their pets into their new routine and life."
Top tips for preparing your dog
Gradually change the timings of your dog's routine to the way they will eventually be. If the time you feed or walk your dog has changed due to lockdown then slowly start to change it back to how it was before. Doing this can prevent your dog from experiencing frustration and anxiety when their daily schedule suddenly doesn't match what they've come to expect.
Begin to gradually return your dog's routine to normal before it has to change. Consider the amount of walks, location and times that are part of your dog's normal routine. Gradually adjust your walks to match this. Our dogs may not be left alone at all during lockdown or for brief intervals only, and they're probably getting much more attention and interaction. But if this is likely to change when you go back to work then you need to prepare them for that. Begin to gradually decrease the amount of attention you give your dog, and increase the time they spend on their own. This may include not playing with your dog every time they ask or not stroking them everytime they nudge you. Don't completely ignore your dog as this may confuse them, but do give them something better to do like a comfy bed to lay on or a tasty chew to settle with.
Give them a routine as close as possible to the one they'll experience when restrictions are lifted. Help your dog spend more time alone by encouraging them to rest in their own bed or keeping them in a separate room while you do something else.
Give your dog clear signals about when they can be involved in interactions and when they need to occupy themselves. Chew toys or interactive toys your dog can use without you can help you to do this.
Try to keep interaction time for when you will be available once your routine is back to normal, for example in the evenings after dinner.
You may also want to think about leaving the house without the dog to help your dog to gradually get used to this part of their routine again. If you need to build up this time for a longer duration or for more frequent absences, think about going to sit in the car to read a book, so that you can leave the house and stay within government guidelines. However, if your dog shows any distress when left alone then pause your plans and seek the support of a qualified behaviourist.
If you are returning to using a dog walker, friend or family member to care for your dog while you are busy they might be very excited or even a little apprehensive having spent time with only you. It can be useful for you to remain home on the first walk or two, just in case your dog needs any extra support from you.
Check out our advice on how to help prepare your pets for being left home alone and if your pooch is already displaying any signs of separation related behaviour speak to a clinical animal behaviourist for advice.