Batty rescue! RSPCA rescues bat caught on fishing line and hanging by the mouth
The RSPCA rescued a pipistrelle bat which was caught in fishing wire and was hanging by the mouth from a tree in Maidstone.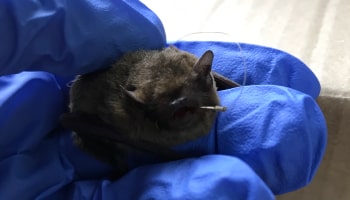 RSPCA Inspector Kirsten Ormerod attended The Mallows in Maidstone on Saturday 14 August, where the poor bat was hanging from a tree about 12 feet above the water.
The bat had the hook stuck in its mouth and was struggling to free himself.
With the help of a member of the public who offered their boat, Kirsten was able to cut the bat free and take him to a nearby vet.
She said:
This poor bat was hanging from the tree by his mouth and unable to get himself free. He must have been very stressed and in a lot of pain. I took him to the vets who sedated the bat and safely removed the hook from his mouth. He was then given fluids and anti-inflammatories before being taken to a wildlife hospital for further care. He will undergo rehabilitation before he can be released back into the wild.
This is a stark reminder of the dangers of fishing litter. Most anglers are very responsible but it only takes one careless person to endanger the life of an animal. We urge all anglers to follow the Angling Trust's Take 5 campaign and make use of the recycling scheme to dispose of waste tackle and line.
Top tips to stop fishing litter
Take old fishing line and spools to recycling points in local tackle shops or fisheries. Your nearest recycling point can be found on the Anglers National Line Recycling Scheme (ANLRS). Alternatively, old fishing line can be posted to the address on the ANLRS page.
Be aware of surrounding trees - discarded line caught in foliage causes problems for wildlife.
Don't leave bait unattended - always remove it from the hook and put it in a safe place.
Use a bait box.
Dispose of any litter you see, even if it's not your own.
Kirsten added:
We know the majority of anglers do pick up their litter but sadly a small proportion do not and this litter can cause severe injuries or can even be fatal to wildlife.
Donate to the RSPCA's Cancel Out Cruelty campaign and help us continue to rescue animals in need.
---