RSPCA rescues adorable newborn hoglets found without their mum
The RSPCA rescued five tiny baby hoglets after a family reported that the mother hedgehog had disappeared.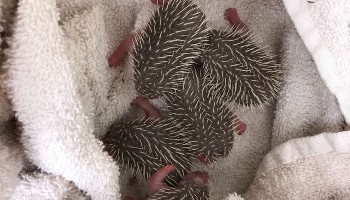 A member of the public discovered the four day old hedgehogs in a nest near their bins in Shakespeare Avenue, Hayes, on Friday 9 July and contacted the RSPCA after the mum had not returned.
The family had spotted the mother hedgehog a couple of days before but became concerned when she disappeared and the babies were left alone. The family kept them warm overnight and when the mother still did not return, RSPCA Inspector Philip Norman collected the tiny cargo.
He said:
These poor hoglets had been left behind by their mother and were completely vulnerable. Sadly, we don't know what happened to her but the fear is that she could have been hit by a car leaving the tiny hoglets in desperate need of care.
We always ask members of the public to monitor the situation from a distance in the first instance to ensure the mother isn't returning but when it became clear that she wasn't and due to these hoglets being so young, we stepped in to care for them.
They have now gone to a wildlife rehabilitation centre where they will be hand reared and then released back into the wild when they're old enough.
When to help a hedgehog

If you find an uninjured hoglet and think they need rescuing, watch them from a distance first. It's usually best to leave them alone. However, there are a few things you can do to check if the hoglet does need help.
Only intervene straight away if you find a baby hedgehog:
in immediate danger (such as on a road)
weighing less than 300 grams (roughly the size of an apple) and without an adult hedgehog nearby
that is sick or injured, or surrounded by flies.
If any of those apply, please collect them in a box and contact your local wildlife centre or a vet. If you're unable to transport the hoglet, please contact the RSPCA.
For more information about how to safely capture and transport hedgehogs, please visit the RSPCA's webpage on baby hedgehogs.
---