Appeal for information after little dog left tied to a fence
We're appealing for information after a small dog was left tied up to a fence near our animal hospital in Finsbury Park, London.
Our inspector Jack Taylor was visiting the hospital with a sick fox, when a member of the public called him over as they were concerned for a dog who had been left tied up nearby.
Gabe was left around Sonderburg Road
The members of the public said they had not seen anyone leave the dog, but they think he had been left there for at least half an hour before he was spotted at around 5.15pm on Tuesday 3 November in the Sonderburg Road area.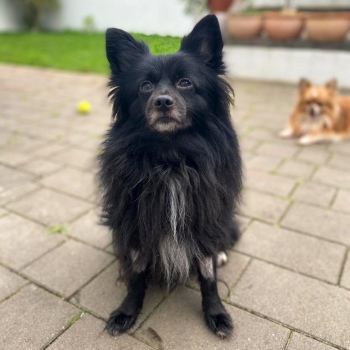 Jack collected the dog, who has now been named Gabe, and took him inside the hospital where he's now being cared for by our dedicated staff.
Gabe wasn't microchipped and was wearing a red harness with a chain lead. There was a red collar attached to the end of that with black lead which was tied to the fence.
Gabe is a small spitz breed cross, entire male around five years old. He had some matting of fur on his rear end and he also had sore skin and had fleas.
Jack said:
We made enquiries in the local area when we found Gabe and sadly nobody came forward to claim him - which leads me to believe that sadly it's most likely that he was left at the location on purpose.
No matter what the reason, abandoning an animal alone and in a situation like this is never okay. There is no guarantee that an abandoned animal will be found or not become hurt or lost.
If someone is struggling to cope there are lots of charities who could help and we would urge you to ask for help.
If anyone has any information regarding Gabe we would ask them to contact me on the RSPCA appeal line on 0300 123 8018.
Gabe is doing well in fostering
Gabe is now being fostered by Emma Yelland at the hospital and is doing well in her care.
She said:
Poor Gabe was riddled with fleas and he had been so itchy he was gnawing at his back and had become really matted. He had a bath to get rid of the mats, he's had flea treatment and his scabs are healing well.
He's really friendly and very well behaved. It's so sad that he was abandoned in this way.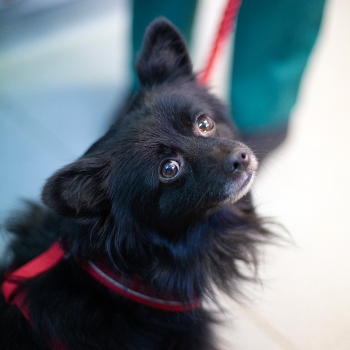 Gabe will continue to be fostered by Emma until he's back on his paws. He's not currently available for rehoming, but we've got many other dogs for rehoming who have been through similar experiences to Gabe.
If you're not able to make a lifetime commitment for a pet, fostering is a great way to look after animals in our care.
This winter, we expect to rescue thousands of animals from neglect, cruelty and suffering. To help our rescue teams reach the thousands of animals who desperately need us, Join the Christmas Rescue. Donating just £25 could help keep our Animal Rescue Teams on the road.
---