RSPCA appeal after 'hours-from-death' dog found dumped in a bag in a park
The RSPCA is appealing for information after a dog was callously dumped in a shopping bag in a park - is making small steps in his recovery.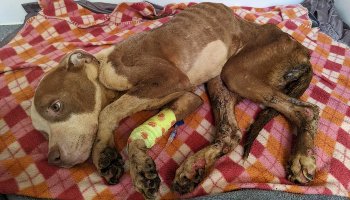 The story of Stanley touched the hearts of many after he was found left helpless in a yellow Aldi shopping bag in a park, in Vermont Grove, Peterborough on the morning of Tuesday 6 September.
Stanley, a bull terrier-type dog, thought to be only one to two years old, was just skin and bones with every rib visible and had sores all over his body when he was found.
He was taken to a vet for emergency treatment. and after a week of dedicated care, we're happy to report that Stanley is making good progress.
He still has a long way to go - but is putting on weight and the great news is that he's now up and walking on his own.
RSPCA inspector Justin Stubbs is investigating the incident and described it as one of the worst cases he's ever been called to deal with:
I was horrified to see the condition in which this dog had been abandoned - he looked like he was just hours from death and was just skin and bone. It made me feel sick.
I just cannot believe someone could be this cruel to just abandon a dog in such a poor state. He was inside a bag like a piece of rubbish - it's truly shocking.
We'd like to say a huge thank you to the vets for looking after Stanley. They've done an amazing job and we're so grateful for the excellent loving care they provided for him.
Stanley's care continues at a local RSPCA centre where he's settling in well and getting lots and love and care from the staff and volunteers.
I'm keen to find the person who did this and I'm hoping someone may provide me with information about this. I'd like to hear from anyone who recognises Stanley - somebody must know who owns him.
This comes at a time when the RSPCA is busy asking for public support by donating to its Cancel Out Cruelty campaign so we can continue to help animals and investigate those responsible for such awful attacks. This sad incident reminds us why this campaign is so important.
Anyone with information should call the RSPCA appeals line on 0300 1234 999 and quote incident 952593.
We received 1,081,018 calls to our Cruelty Line in 2021 and these included reports of:
1,094 killings or nearly three animals killed a day
632 mutilations or 12 animals brutally mutilated every week
7,857 beatings which equate to nearly one animal beaten every hour
The RSPCA's rescue teams need support to stay out on the frontline as the only charity rescuing animals and investigating cruelty:
£2 could help to provide a meal for a dog in our care
£6 could help pay to feed a dog for a day in our care
£10 could help pay towards bandages for a dog
£15 could help pay for a cat or dog's clinical exam
£500 could kit out a 4x4 inspector van
Our frontline teams are working hard to rescue animals in need this summer but we can't do it alone - we need your help to Cancel Out Cruelty.