Animals and staff left terrified after fireworks fired near our hospital
Our staff were left terrified following a spate of firework incidents outside our Harmsworth Animal Hospital in North London.
One shocking video shot by staff at our hospital shows fireworks being fired along the street right outside their window at a nearby police car, leaving staff rattled and the sick and needy animals inside terrified.
Gangs have been in the area firing fireworks and creating makeshift barricades out of bins in the streets, leaving staff trapped inside the hospital. Some staff even had to hide in the dark inside the hospital so as not to be seen.
The hospital has urged clients to stay away for their own safety - and the animal patients have been left terrified.
Staff are asking clients who need to visit the hospital, for example collecting medication, to try and do so before it gets dark over the next few days and by appointment only and they're also trying to make sure staff can get in and out of the building safely at these times.
Our spokesperson said:
"Our dedicated workers at Harmsworth Animal Hospital are trying to continue to care and treat animals during the challenging times of lockdown and they should be able to do this without fear for themselves or the animals.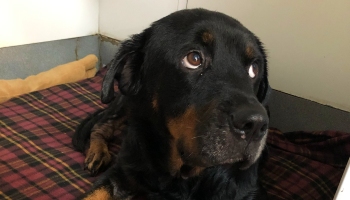 "Fireworks have been going off in this area during the week upsetting the dogs and animals in the hospital, and staff also reported sparks visible in the branches of the trees close to the hospital. We had one particularly horrible incident where fireworks were launched at a police car right outside the hospital.
Home firework displays increasing this year due to lockdown measures
Our spokesperson continued:
"This anti-social and dangerous behaviour is obviously unacceptable but, as well as this, lockdown measures this year also mean that very few organised, public displays are likely to go ahead. We suspect this will mean people will have their own displays at home instead and we fear that this will result in lots of little displays taking place over a few weeks, spreading out fireworks noise and causing prolonged distress for animals, making it harder for owners to manage their stress.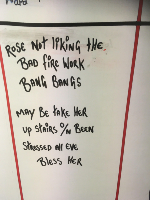 "Fireworks are extremely stressful and frightening for lots of animals. But they can also cause very serious injury and even death to some."
Staff had to take extra steps to keep some of their residents calm during the fireworks riot outside. Rottweiler Rose, who was finding the 'bang bangs' very frightening, was moved upstairs to a quieter room by staff to try to comfort her.
Changing firework regulations to help animals
Every year, we receive hundreds of calls about fireworks affecting animals. Over the last four years, we've received 1,543 calls about fireworks.
In 2019, we launched our #BangOutOfOrder campaign calling for tighter controls and regulations around the sale and use of fireworks in a bid to help people and animals who suffer from fireworks phobias and noise aversion.
This year we teamed up with Classic FM's Pet Sounds programme which aired special classical music to soothe animals during key dates over fireworks season. The programme aired on Bonfire Night and Guy Fawkes Night to help owners manage their pets' stress throughout the week.
Support our #BangOutOfOrder campaign and send a letter to your local council to put forward changes.
---