RSPCA animal rescuer reunited with the cat she saved
A cat who was rescued from neglect by the RSPCA has been reunited with his rescuer as he gets ready to spend Christmas alongside his new family.
Milo, who now has just one ear, arrived in the care of the charity after his previous owner didn't think he needed to see a vet.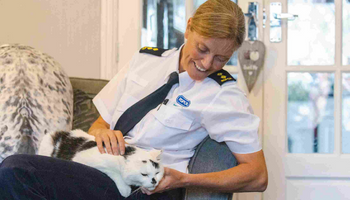 By the time he was rescued, it was too late to save his ear but the RSPCA managed to save his life, and now he's finally getting the love he deserves with his new family.
Emma Brown, who adopted Milo after falling in love with the black and white cat, said:
From the moment I first saw Milo, I kept going back and looking at him. He was an older boy with health conditions and I know just how hard it can be to find homes for older animals.
I have a busy home so wanted to be sure Milo was happy to join our family. I decided to offer him a foster home first before signing the adoption papers just two weeks later, as he'd settled in perfectly and so quickly.
He's a real sun lover and will follow the sun around the garden. His favourite spot is the trampoline, he loves being so warm and comfy.
He has to wear sunscreen and tries to escape as soon as he sees me getting it out but it's so important with him having previously had cancer.
Since his rescue, Milo has really come out of his shell and constantly keeps the family laughing with his antics.
We're sure he plays deaf as he ignores everything - unless it's the sound of a packet of ham opening! He can hear that with no problem and quickly shoots downstairs and starts begging for a taste of his favourite treat.
He's always trying to steal things too. He's so quick, clever and cunning as he tries to work out how he can get his paws on treats. He's always trying to grab pizza and once managed to snatch a piece of garlic bread before hiding under a table, proudly guarding his stolen goods.
Emma spoke of her joy at being reunited with Milo's rescuer, RSPCA Inspector Deb Scotcher when she came to visit for the first time since saving his life.
She said:
When she arrived, he was in his favourite spot on the trampoline so was a little cross to have to come inside but very quickly enjoyed the chance to have a fuss from our very special guest, and loved sitting on Deb's knee.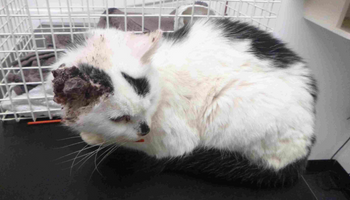 He knows his own mind and rules the roost. Dinnertime, ham and sunshine are his favourite things in life, and he always insists on being fed first before our other cats, dog and tortoise. He may look a little unusual with his missing ear and grumpy face, but he's an amazing cat who deserves all the love in the world.
I feel honoured to be able to give him the chance to live out the rest of his days exactly the way he wants, doing exactly what he wants. We're looking forward to Christmas but may have to keep an extra eye on Milo - given the chance he'd even steal the sprouts!
RSPCA Inspector Deb Scotcher spoke of the moment she first saw him after receiving a call with concerns for his welfare.
She said:
Milo came to our attention after we received a call and photos to our national call centre about a cat with a bleeding ear.
I picked him up and could tell he was in pain. He was shaking his head and showing his discomfort. I could instantly smell the unpleasant odour of infection coming from his ear.
His owner told me he had not been to a vet as she couldn't afford it and implied that he was an old cat anyway so she didn't need to.
Despite his condition, Milo was purring constantly. He was such a friendly and loving cat.
His owner agreed we could take Milo to a vet so that he could be examined. A large part of his ear pinna was missing and the remaining tissue was crusted over with dried blood. Due to Covid-19 restrictions, the vet was wearing a face mask throughout the examination but this did not stop her from reacting to the strong odour.
The vet concluded his right ear would require amputation as the tissue was too severely damaged to be saved. The infection and destruction present would be causing Milo significant pain, and he was in a suffering state.
During his treatment and care, Milo just kept on purring! I'll never forget how sad it made me feel to see him so unwell but still purring for attention, even before he was given pain relief and antibiotics to keep him comfortable until his operation.
Laboratory tests revealed he had cancer in his right ear and to a lesser extent in his left ear. The results showed this would have
developed slowly and meant Milo was left without appropriate veterinary care for a considerable time, most likely to have been months.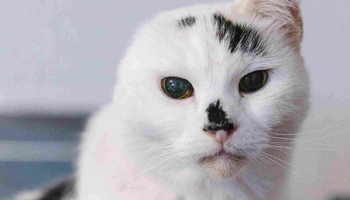 The person responsible for Milo said they had noticed Milo's ear becoming red and sore six months prior and said they used antiseptic spray from a supermarket and warm salt water in an attempt to treat it. The owner was charged with causing unnecessary suffering to Milo by failing to provide vet treatment. Magistrates disqualified the owner from keeping all animals and ordered them to pay a fine and costs.
Deb added:
Milo was signed over to the RSPCA and taken to one of our rescue centres where it did not take us long to find him a new loving home with Emma.
It's been great to be reunited with Milo and to see him looking so happy and healthy in his new home with Emma and her family.
I loved having him sit on my lap and hearing him purr again. I'm not sure he recognised me, or if he did, he didn't show it but then that's cats! Hopefully, that's a sign he's recovered and moved on with his life in his happy retirement home.
Our rescue teams will be out in all weather this winter, rescuing animals from abuse, neglect and suffering and we are asking people to Join the Christmas Rescue and help our rescuers be there for the animals in need.
Don't let animals pay the price of the cost-of-living crisis this Christmas. Join the Christmas Rescue today.