Animal lovers urged to join the fun as RSPCA One Fun Day event is back IRL!
Animal lovers are being urged to join in the celebrations as the RSPCA's One Fun Day will be held up and down the country - back IRL!
One Fun Day is back 'in real life' this year and we're getting ready to welcome supporters to a day of animal-themed fun wherever they live.
More than 40 events will be happening simultaneously to support the RSPCA's network of branches, animal centres and all of the animals in their care.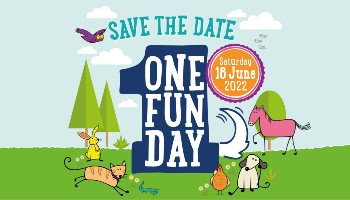 And to find exactly where the fun is happening near you, you can log on to the RSPCA's easy-to-use interactive One Fun Day map, which has all the information about what's happening at the branches and centres in your area.
Events manager Jo Hockley said:
We held a pilot One Fun Day back in 2019 and it proved to be a massive success - so we were keen to make it an annual event in the RSPCA calendar. But then with the pandemic, everything was turned upside down and live events were put on hold - until now!
"We did hold virtual events in 2020 and 2021 - which were really well supported but we are delighted that this year we can hold it 'In Real Life'!
"No two One Fun Day events are ever the same, which is why we have now launched our interactive map so you can find out exactly what fun things will be taking place in your area.
"Our branches and centres have pulled out the stops this year and we are delighted that more than 40 will be hosting One Fun Day events. They will include everything from charity shop parties to dog shows and family fun days.
"There will be stalls, food and drink, face painting, crafts and entertainment - plus at many events and the chance to be crowned winner of our nationwide PonyCycle championship.
"All our One Fun Day events are designed for us to celebrate being One RSPCA - bringing together our amazing family of branches, centres, shops and others - and raise valuable funds to directly help animals in your local area.
"We hope supporters can find time to come along and support us on the day - or better still how about volunteering? You can find everything you need on our interactive map - which includes links to full details of the events.
"We hope to see you then."
One Fun Day events are taking place in:
Frinton-On-Sea - micro charity shop fun days - run by Essex Mid and North Branch
Ringwood - Craft and cake stalls plus a barbecue, children's activities, new and second hand goods, plants stall, tombola and raffle - run by Ashley Heath Animal Centre
Woking - Fun dog show, stalls, raffle, tombola and children's entertainment - run by RSPCA Millbrook Animal Centre
Aylesbury - Coffee and cake morning with interesting talks - run by Blackberry Farm Animal Centre
Worcester - Family fun day with activities for everyone! Stalls and refreshments and a dog photographer - run by Worcester and Mid Worcestershire Branch
Southport - Mega raffle - run by Southport Branch
Doncaster - Treasure hunt with prizes, plus raffle and tombola - run by Doncaster Rotherham and District Branch
Wymondham - Dog show - plus lots of activities for the whole family, trade stands, dog agility course, refreshments, live music and storytelling tent - run by Mid Norfolk and North Suffolk Branch
Warrington - Fun dog show and performances from local groups plus games, refreshments and community stalls - run by Warrington, Halton and St Helens Branch
Chester Le Street - cakes, coffees and a table top tack sale - run by Felledge Equine Centre
Bedford - Shop event - including in-shop games, tombola and face-painting; plus a chance to have a chat with the team - run by Bedfordshire South Branch
Bedford - Fun day at the charity shop, including face painting, adopt a pet (cuddly toys), name the bear and tombola - run by Bedfordshire North Branch
Hitchin - In shop activities, including face painting, tombola, raffle and games - run by Hertfordshire East Branch
Manchester - Join the team for a trek with a difference. You can chose to walk all, or part of this 11 mile challenge to visit all five of our charity shops - whether on two or four legs- fancy dress is optional - run by Manchester and Salford Branch
Wellington and Taunton - In-shop events, ranging from cakes, face painting, colouring competitions, tombola and much more - run by South West Somerset Branch
Nantwich - Stapeley Grange will be hosting an array of children's games and activities. The cattery will be open and there will be short guided tours of the outside wildlife facilities - refreshments also available - run by Stapeley Grange Cattery
Sheffield - Live music, scavenger hunt stalls and crafts, second hand bargains and good food. There will also be garden games, a hay bale picnic area, dog show, face painting, ice cream stall, tombola, raffles and more - run by Sheffield Branch
London - Event at Pets at Home, Plough Lane, where you can meet the volunteers, find about the branches work in the community and some free dog cuddles, biscuits and stickers available. - run by South London Branch
West Malling - Coffee and cake information day - run by Leybourne Animal Centre
Sunderland - Dog-friendly event with giant garden games, a craft cabin, bubble display and station, secret dog show, treasure hunt, stalls food and drink - bring a blankets and chairs and stay for the day - run by Sunderland and Hartlepool Branch
London - Shop event with tombola cakes, kids crafts and drinks - run by Finchley Golders Green and Hendon Branch
Preston - family fun day including trade and craft stalls, amazing raffle prizes, pet portraits from a fantastic local photographer, bouncy castle, face painting, food and refreshments and a dog show - run by Preston and District Branch
Caterham - in shop events including tombolas, cakes and children's activities and games - run by the South London Branch
London - Shop event at Croydon and also Crystal Palace including tombolas cakes and children's activities - run by South London Branch
Woodbridge - coffee morning and meet the team -run by Suffolk Central Branch
Chesterfield -The local branch will be supporting the local village in their jubilee celebrations and they will be tombolas, activities and games and face painting - run by Chesterfield and North Derbyshire Branch
POULTON-LE-FYLDE - Lots of activities for the whole family including craft stalls, a barbecue, homemade cakes and a mini dog show - run by Blackpool and North Lancs Branch
Halifax - fun events at the animal centre -run by Halifax, Huddersfield, Bradford and District Branch
Huddersfield - games, gifts and fancy dress in the town centre - run by the Halifax, Huddersfield, Bradford and District Branch
Rushden - raffle, tombola, tea and cake, gift stall, kids games and competitions and much more - run by Northamptonshire Branch
Cambridge - family walk - follow the trail from the RSPCA shop in central Cambridge to the charity's specialist bookshop in Mill Road and see the beauty and wild nature in the heart of Cambridge - Cambridge and District Branch
Wakefield - dog show and summer fayre - run by the Leeds and Wakefield District Branch
Buxton - Fun dog show, stalls, tombola, pet-related sales, raffle, information tent and children's entertainment --run by Macclesfield South East Cheshire and Buxton Branch
Croydon - Climbing wall - the RSPCA is joining the team at CroyWall for their climbing competition with prizes and rosettes - run by South London Branch
Read for more information about the One Fun Day events, including timings and locations.
If you would like to help out at your local event, visit One Fun Day Volunteer and complete the short form so that we can match you with your local One Fun Day.
---