Animal lover cycles more than 1,000 miles to raise money for the RSPCA
An animal lover from North Somerset is taking on a 1,000 mile cycle challenge to raise funds for the RSPCA.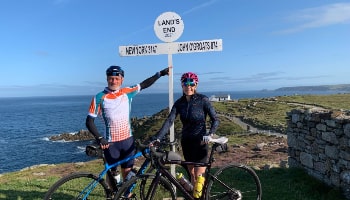 Linzi Baker from Yatton is in the midst of a cycle ride from Lands End to John o'Groats to raise money to help animals in desperate need of care. So far she has raised over £780.
Linzi set off on Sunday (August 22) with her Portishead Cycling Club buddy, Paul Chase, and Peak Tours. So far she has passed through Cornwall, Devon, Somerset, Bristol, Monmouthshire, Herefordshire, Shropshire and Cheshire.
Linzi said:
Last August, I visited a town called Clun which is where the Lands End to John o'Groats route comes through with a company called Peak Tours. So it got me thinking that I need a challenge in my life and after the year we've all had I needed something to train for and work towards. So I booked up for the challenge as soon as I got home and started my training plan with a year to prepare.

Given the enormity of the challenge I really wanted to do it for charity and the RSPCA is always my chosen charity seeing as I adore animals. I am a massive dog lover and as a family we've rehomed a few dogs and always have a big smile for all doggies!
Cancel Out Cruelty
The RSPCA gets around 84,000 calls to its cruelty line every month and around 1,500 of those are about intentional cruelty. But the charity sees a rise in the Summer by around 400 calls, on average, per month. This means 47 calls every day or two every hour.
Linzi explained she has been enjoying the scenery on the cycle ride but it is also a huge challenge. She has completed small touring rides previously but nothing of this magnitude. The challenge is over 1,000 miles with 57,000 feet of climbing.
You can support Linzi's challenge or donate to our Cancel Out Cruelty campaign to help animals in need.
---