Animal Friends Insurance helps us tackle puppy farming
Animal Friends Insurance has helped us tackle the puppy trade in a year when the demand for dogs surged prompting concerns about where this influx of new pups would be coming from.
Animal Friends generously contributed £50,000 to help us care for animals who had been directly affected by the puppy trade.
Our Special Operations Unit (SOU) - which tackles serious and organised animal crime such as the illegal puppy trade and commercial movement of puppies across the borders - looks into hundreds of complaints related to puppy farming every year.
The donation has supported three SOU cases which saw a total of 130 dogs and puppies rescued by our officers. One of those cases concluded in court last month, with two people disqualified from keeping dogs for life and handed suspended prison sentences.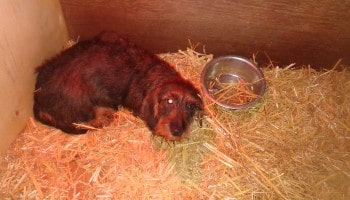 Grainne Casey, head of SOU, said: "We'd like to say a huge thank you to Animal Friends for their donation and their support over the past year. We rely on donations from our generous supporters and the kindness of businesses, such as Animal Friends, to help us continue our vital work rescuing, rehabilitating and rehoming some of the neediest animals across England and Wales.
"In our SOU, we work tirelessly to tackle some of the most serious animal cruelty as well as taking down gangs of criminals who exploit animals to make money, but this is a costly endeavour and we're incredibly grateful to Animal Friends and their support."
Westley Pearson, chief executive officer of Animal Friends Insurance, said:
Everyone here at Animal Friends is delighted that our support has helped rescue 130 dogs and puppies from a life of horrendous cruelty and contributed towards some of the care needed on their long road to recovery before they find loving forever homes. It's important to us and to our customers that we give back to incredible charities like the RSPCA and work together to improve animal welfare. Their Special Operations Unit does a tremendous job of bringing animal abusers to justice and giving innocent creatures hope of a happy and healthy future.
The donation has helped dogs like Molly. Her mother was rescued by our officers in 2018 from Shropshire, alongside 54 other dogs and puppies. A further 26 puppies were born in our care - including Molly - and it costs us an estimated £632 to care for one puppy that's been rescued from puppy dealers until they go off to their new home.
At eight-weeks-old Molly was fostered by Julie Cansfield and her partner, Pete Cocker, who have now adopted her. Julie said: "Molly is such a character. She's everybody's friend; it's amazing really, given what she's been through. There's not a bad bone in her body, she's a lovely dog. To see she's come from that, it hasn't affected her at all. She has the life of Riley now!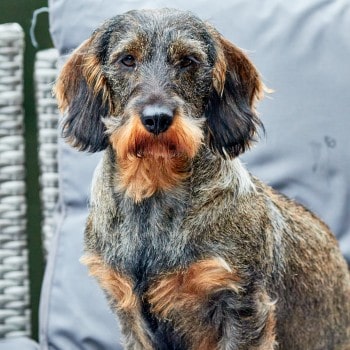 "She's really sociable and has a wonderful temperament. She's always on her back when anyone arrives - even the postman - she rolls over to have her belly rubbed! We often have parties at the house and she likes to wait for the Prosecco cork to pop so she can play with it! On VE Day, she put her special Union Jack collar on to join in the street party.
"She's always happy and full of beans. She loves to go to the beach, she likes watching TV and she sits in a big cosy armchair in the window looking out at everyone going about their day; she's quite nosey. A great neighbourhood watch service!"
Last month, two people were sentenced for their parts in an operation in Shropshire and Greater Manchester breeding and importing puppies to sell to unsuspecting members of the public and conning them out of an estimated £250,000.
Animal Friends helped us do the best for these rescued dogs
Grainne added: "Animal Friends helped us to care for the dogs and puppies that were rescued, to give them the best care and any necessary veterinary treatment, and to get them into loving foster homes while our officers investigated a number of offences.
"These cases can be complex and take many months to properly investigate. Meanwhile, our centres have dozens of dogs and puppies who need shelter, food, toys, vet treatment and behaviour assessments. Animal Friends helped to bear some of the weight involved in doing the very best we can for these dogs while also ensuring we bring their abusers to justice."
Animal Friends also joined forces with us to campaign for tougher sentencing for animal abusers - with the new Animal Welfare (Sentencing) Act coming into effect on 29 June - and is also supporting the charity's #ForPupsSake campaign, which is calling for a crackdown on the illegal importation of puppies.
---