Advice to the public after people impersonate RSPCA staff
Over recent weeks we've been made aware of incidents where people are posing as fake RSPCA inspectors or impersonating our staff and this is extremely worrying.
We want to ensure that the public, their animals and our own staff are safe, and that our officers can continue to carry out their vital work without being compromised by bogus officials.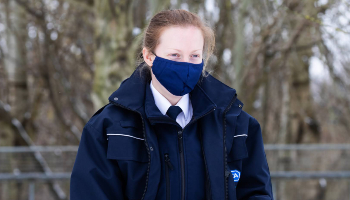 We've been made aware of a number of incidents in different areas of the country in which people have been targeted in their own homes or while out walking their dogs. In some cases, police have been made aware of the circumstances and we've also been informed.
Thankfully, there have been only a handful of incidents that have been officially reported. However, we're aware that many alleged incidents circulating on social media may not have been actual cases of people trying to pass as bogus officials and, in some cases, our own officers have been stopped in their work vehicles and asked to prove they are genuine staff members.
We're also extremely concerned to hear that some fraud callers are mirroring our emergency hotline number (0300 1234 999) to make outgoing calls claiming to be calling from the RSPCA; while this number should be dialled by members of the public trying to report animal cruelty, outgoing calls made by our control centre will never display as this number. If you receive a call from this number we would urge you not to divulge any personal information, to hang up and to report this to police.
What the RSPCA does and doesn't do
The RSPCA does not investigate reports of stolen pets; this is a criminal matter dealt with by police. Our officers would never approach anyone in public or at their home address following up on claims that the animal is stolen. If someone purporting to be from the RSPCA does so then we would encourage you not to engage and to report this to police on 101.
There are very few incidents whereby a genuine RSPCA officer will approach someone out in public, unless they happen to have witnessed animal cruelty themselves there and then, or if they see an animal in immediate danger (eg. a dog shut inside a hot car on a summer's day); almost all of our officers will approach people by visiting their home address and knocking on their door.
Our officers have no powers of entry or seizure. This means our staff can only access your property with your consent or if we're accompanied by police with a warrant. We cannot remove your animals unless with your consent or unless police seize that animal on our behalf. If you do not want to give an officer access to your property, you do not have to. If you'd like to clarify who they are before allowing them into your home please ask to see their ID or contact our national hotline on 0300 1234 999 (using option 1 which says 'responding to a card left by the RSPCA') will put you through to call handlers quickly in order to check credentials.
Our officers will be wearing RSPCA branded clothing which may include a white branded shirt, navy blue branded fleece or coat, and will always be carrying RSPCA identification. Most of our officers drive white vans that are either wrapped in branding or have small navy RSPCA logos on the side and rear of the vehicle (although some officers can remove these signs for operational reasons or for their own safety).
An outgoing phone call from our national control centre will never display on your phone as 0300 1234 999; if you receive a phone call from this number please do not give any personal details and report the incident to police on 101.
If you are concerned someone may have posed as an RSPCA officer or another agency worker please report the incident to the local police on 101.
Please refrain from sharing claims about bogus officials or images of alleged fake vans or officers on social media unless the warning has come from a legitimate source, such as the RSPCA or local police. Unfortunately, we've been made aware of some incidents in which the public have assumed a genuine officer is fake and have posted their number plate on social media which can lead to safety concerns for our staff.