Adoption plea for young German Shepherd who has spent more than 720 days in kennels
An RSPCA rehoming centre in Warrington is putting out a special appeal for a tennis ball-mad dog who has spent nearly all her life in kennels.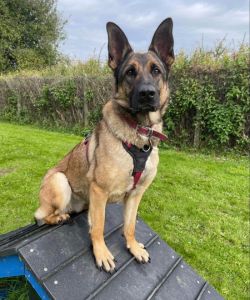 German Shepherd Petra came into the care of the charity's Warrington, Halton & St Helens branch as a puppy in May 2021.
Until now, the charity had been unable to rehome her because of court proceedings but has now been given the go-ahead to find the three-year-old dog a loving new home.
Staff at the centre in Slutcher's Lane, Warrington, say Petra, who had spent limited time living inside a house, has made great progress and will make a wonderful companion for owners who have experience of large breeds and nervous dogs.
Animal care manager, Katie Buckley, said: "All the staff have understandably grown very fond of Petra as she's been with us for the vast majority of her life and we've invested so much time in training her, building up her confidence and introducing her to new experiences.
"She was anxious about many things to start with - and even giving her a bath is something that still makes her nervous - so she's going to need owners with time, patience and understanding who are prepared to put in a lot of work to gain her trust and carry on the training we've started.
"Petra was only young when she arrived but her love of tennis balls soon became apparent. If you find Petra, there will be a tennis ball - or ten - in sight, which is why we feel an activity like fly ball would really suit her.
"She remains frightened of other dogs, however, so this is something potential owners will also need to provide ongoing support for, although she's getting better and we feel this is something that will improve over time once she's out of a kennel environment. Even though she has her fears, the amount of love she has to give is endless. We'd love to see her happily settled in her own place now we're finally in a position to be able to rehome her."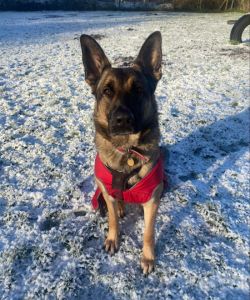 Petra is thought to have spent limited time inside a house prior to arriving at the centre and has been having 'sleepovers' with a foster carer to help her become more familiar with a home environment. Centre staff have also been getting her used to travelling in a car.
The German Shepherd has been on medication to help with anxiety during her long stay in kennels which she will need gradually weaning off once she's settled in her own home. Her new owners will be given support and guidance to help with this.
The centre is looking for an adult-only home with no other animals for her, ideally with people who have had experience of large breeds and dogs of a nervous disposition. Previous owners of German Shepherds would be a bonus. She will also need a garden to run around in - a rural and quiet location would be ideal.
---