Abandoned balding puppies and mum are spending their first Christmas in forever home
The New Year brought loving forever homes for two balding puppies whose Christmas wish was for their fur to grow back after they were found abandoned with their mum.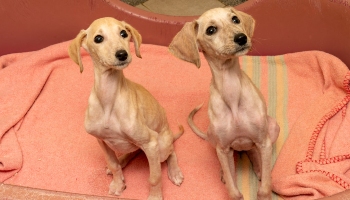 Sweet lurcher puppies Holly and Ivy were balding and itchy when they were dumped on a cold, wet winter's day with their mum, Mistletoe, just weeks before Christmas.
They were just 12-weeks-old when they were abandoned, furless and skinny and in need of care.
They were found by the side of the road in Effingham, Surrey, on 27 November and spent Christmas at our Millbrook Animal Centre.
They were suffering from a bad case of mange which meant they were practically bald and even more susceptible to the cold weather. Whilst they were going through treatment, Holly and Ivy wore Christmas jumpers to keep them warm and cosy, along with plenty of cuddles and fuss from the staff.
They also wrote a letter to Father Christmas - asking for their fur to grow back as their Christmas wish!
Dear Santa,
We have been very good puppies. We were hoping for Christmas we could have our fur back. We were dumped by the side of a road covered in mange. So we would love our bald patches to disappear.
Love Holly and Ivy, aged 12 weeks.
Ivy is doing well in her new home
Ivy who is now nearly a year old was rehomed in January 2020 to Jackie Jones and her husband Mark from Feltham, Middlesex.
Ivy has well and truly settled in and is loved by all the family, including their two children Melissa, 29, and Conor, 25.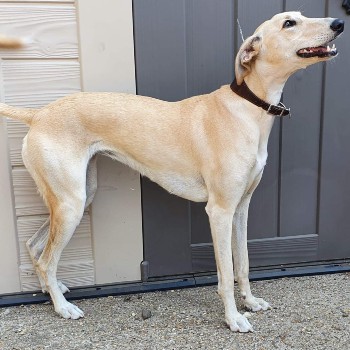 Jackie said:
"Ivy has such a lovely personality and she's settled in so well. We saw her in a photograph just before Christmas and we were just smitten with her as soon as we saw her. We'd been thinking of getting a dog for a while, we have a cat, but we decided we would love a dog too so we could go out and have fun with them.
"My daughter found her on the Millbrook website and showed us. I thought she would have gone by Christmas but she was still there so it felt like it was meant to be!
"Our family lives have changed completely with her around - for the best!"
As an excitable and sociable dog, Jackie explained that the lockdown has hit Ivy hard.
She said:
"I've been shielding as I have blood pressure problems so she hasn't been able to socialise with other people and dogs as much as we would like. She just gets so excited to see anybody - she absolutely loves meeting people!
"Although, we do have a 100ft garden so she has plenty of space to exercise and plays with our six-year-old cat Jasper.
"We are just ecstatic with her, she's so lovely and we are so glad we got her! She's been such a fantastic companion over the lockdown."
Holly is getting a spoiled Xmas
Lesley Smith and her partner Dave West, from Cranleigh in Surrey adopted Holly, now called Lupin, in January and she has brought laughter and love into their lives.
Lesley said:
"Lupin is very settled and very spoiled! She's so loving and just loves people and other dogs. We are so glad we got her!
"Originally we were going to get Mistletoe, the mum, as we wanted an older rescue dog but Mistletoe had been adopted, and so had Lupin¿s sister. When we arrived someone else had come to see Lupin before we had and they were just bringing her out to meet the potential adopter. When she came out, she made a beeline straight for us and we said it was a sign - she was meant to be with us! It did feel a little bit like fate when the other people didn¿t end up adopting Lupin and we got the call!"
Lupin settled into life with Lesley and Dave very quickly.
Lesley added:
"She's so lovely and loving. She's a bundle of fun, and we are so delighted with her. She makes us laugh with her quirks. She likes to counter surf - not to eat the food but just to see what we are doing as she¿s no nosey! Sometimes when she¿s in the garden she¿ll stand on the little table out there to peer into the kitchen, it's so funny.
"She loves being outside and loves sleeping on the sofa, and we constantly have many teddies in 'teddy hospital' as she loves destroying them! She can be mischievous and she absolutely loves doing 'zoomie' round the garden."
Lesley and her partner were furloughed during the Coronavirus crisis and so Lupin got very used to having them both at home and developed some separation anxiety issues which they are now working through, and slowly introducing her to short periods of time on her own.
"She does seem to know that we will come back now but it's taken a while. She just wants to be with you all the time. She's excited to see you even when we¿ve just been in the bathroom, it's like she hasn¿t seen you for weeks!"
Mistletoes new owners couldn't wish for a better dog
Mistletoe, now named Misty, has also found her forever home with the Collings family in Woking, Surrey. The two-year-old dog settled into her new life straight away and is a gentle and calm dog.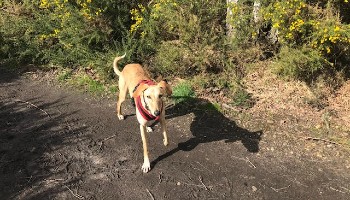 Sarah said:
"I spotted their story in the local newspaper before Christmas and it just stuck with me, it was the mum's story and what she must have been through which stuck with me the most."
They knew they wanted to rehome Misty straight away, adding:
"She's still a puppy at heart. She loves playing and long walks but she's very gentle. We couldn't have asked for a better dog."
This winter, we expect to rescue more than 7,000 animals from neglect, cruelty and suffering. To help our rescue teams reach the thousands of animals who desperately need us, Join the Christmas Rescue.