30 terriers rescued from property where owner found dead
The RSPCA is caring for more than 30 dogs that were rescued after they were found in a house in Kent when their owner died.
The animal charity conducted a large-scale operation to recover the canines when police officers discovered their plight after their owner was sadly found deceased following a welfare check on January 15.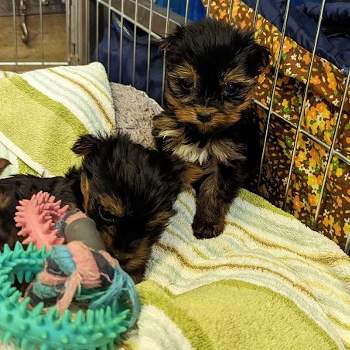 The dogs were among a large number of Yorkshire terriers, including puppies, who were retrieved from a bungalow by Inspector Clive Hopwood and animal rescue officer Brian Milligan. Some of the dogs proved elusive to find and the officers installed night cameras and laid down traps in the loft space of the property.
The rescued dogs are being cared for at several RSPCA animal centres and a small number are to be taken on by a local charity which works with the RSPCA. Some of the dogs have received medical treatment and all of them have been given thorough veterinary examinations so as to make sure they are fit to be rehomed.

A spokesperson at one animal centre, which is looking after 14 of the dogs, said:
We're letting the dogs acclimatise to their surroundings by paying good attention to their handling.
They're being kept in pairs because they have been living in a multiple-dog household. We need to spend some time assessing their individual personalities.
They'll all have their coats clipped, but as far as their health is concerned there was nothing major, although there were some with dental issues.
However, many of these dogs are very fearful, which is understandable as they have endured such a bad experience. It's going to be a slow process to help them feel safe again and find them new homes, so we'll be taking things at their pace.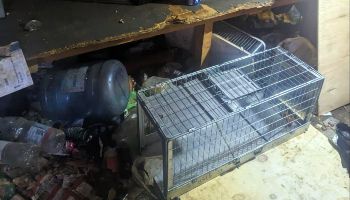 Initially, it was thought there were only six dogs confined at the bungalow when the RSPCA made its first visit. It soon became apparent many more were spread across the property, where access to the rooms proved difficult because of the number of cluttered possessions.
The terrier dogs may have been left to fend for themselves for some time. They range in age from three months to 10 years, while the puppies are around four weeks old.
One of the last dogs to be recovered from the loft was spotted when he poked his head through a gap in the rafters. RSPCA officers patiently put a watch on the space for several days to ensure he was brought down to safety.
Animal rescue officer Milligan said,
We used a dog trap to catch the last dogs but it was a tricky process as they were too light to set them off initially.
All in all, this was a difficult exercise, which saw the RSPCA deploy significant resources to clear the property and ensure we found all the dogs. We went to the house every day for over a week to conduct extensive searches to rescue every dog - in the end, we had to clear every room.
RSPCA officers returned to the bungalow this week to confirm that no other dogs were left on the premises.
During the operation, the charity also liaised with the relatives of the deceased owner, who had been unaware of the extent of the problems at the property - and their cooperation was hugely appreciated by the charity. Kent Police say they're not treating the death of the householder as suspicious.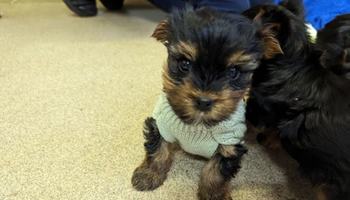 Some of the rescued dogs have been staying in private boarding facilities on a temporary basis. The RSPCA is struggling as a result of the cost of living crisis, which has seen its centres inundated with large numbers of animals, leaving the charity to meet boarding costs while spaces become available at its centres.
It urges owners to seek help before letting problems escalate and it has opened a telephone helpline - 0300 123 0650 - to support people, while practical help can be found at a recently-launched cost of living hub for those struggling to look after their pets.
---