The 12 Pets of Christmas searching for homes
Abandoned, neglected, abused or unwanted. Every animal who ends up in our care has their own unique story - many of which are heartbreaking. But these pets all have one thing in common (as well as their festive names!); they're all hoping their Christmas wish comes true and they get to start a new year in a new home.
We will be there for all of the animals in need this Christmas and our centres are full of thousands of dogs, cats, horses, farm animals, rabbits, small furries, birds and reptiles looking for homes his festive season.
1. Santa
Three-year-old Santa was rescued from East London on Christmas Eve 2020 as a stray with an injured leg. He was very frightened when he arrived at our Finsbury Park Hospital before being moved to Southridge Animal Centre in Hertfordshire. Having never lived with people before, he's a nervous lad who needs understanding, patient owners who are happy to give him his space. We'd like a quiet home away from busy roads and railway lines where he'll be the only pet. He has spent time with volunteers and enjoys strokes and can be very chatty!
2. Asti, Cava, Champagne & Prosecco
It'll be celebrations all around if Asti, Cava, Champagne and Prosecco the mice can bag themselves wonderful new homes this Christmas. The group of four six-month-old Agouti mice are friendly rodents who can be a little unsure of being handled so will need time to get more confident around people. They'd like a large home together with lots of enrichment and fun things to keep them busy. The team at Blackberry Farm Animal Centre, in Buckinghamshire, love these little mice but are ready to wave them off to their new homes.
3. Snowy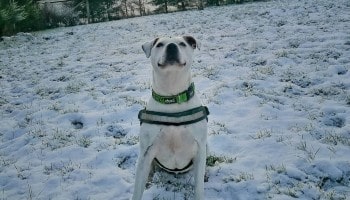 Nine-year-old Staffordshire bull terrier Snowy is a sweetie who has been a good girl this year and is hoping she'll get her happy ever after this Christmas. She loves a fuss and has lots of energy so she'll need someone who can keep up with her! She loves to play, but be warned: soft toys don't last long around Snowy! She has learned some basic commands from the team at Birmingham Animal Centre and would love to learn more. She's looking dog-savvy owners who can help manage her anxiety around other dogs. Her new owners will need to bear in mind that she needs to be kept muzzled and on a lead when out in public around other dogs.
4. Sprout
While sprouts may divide opinion at the dinner table, this is one little munchkin who is sure to win everyone over. Sprout is a very handsome puss who was found as a stray and taken in by our Rochdale & District branch, in Greater Manchester. He is a sweet, friendly lad who can be a little nervous when he first meets new people so will need owners who can give him time to settle and grow in confidence. He absolutely loves food so treats really are the way to this lovely lad's heart. He's independent so will need access to outside space and would like to be the only pet in his new pad.
5. Balthasar, Gaspar and Melchior
Like the Three Wise Men they've been named after, degus Balthasar, Gaspar and Melchior will bring gifts to whoever takes them on this Christmas. These sweet but cheeky, playful and mischievous boys bring lots of fun and adventure with them. They love to venture out of their cage to play at our Bryn-y-Maen Centre, in Wales, and explore while staff are working and have learned to return back to their beds at the end of the day.
6. Holly & Ivy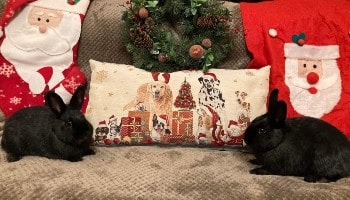 Twelve-month-old sisters Holly and Ivy are friendly, playful buns who would like to find a home together, or could be rehomed independently to live with neutered males. They were rescued by our Bridlington, Driffield & District branch in East Yorkshire. They're looking to live indoors or in a large outdoor enclosure and, as busy, active buns, would like lots of space to explore and lots of enrichment to keep them entertained. They are used to being handled so could be good pets for a first-time owner or a family with children.
7. Bailey
Just like the festive tipple he's named after, Bailey is a sweet boy who quickly shows off his cheeky side! There's only one thing on this six-year-old Staffie's Christmas list: a new home! He loves to spend time with his human friends at Coventry & District branch, in the West Midlands, and really enjoys getting out and about to explore. He could live with older children but would like to be the only pet and also needs a secure, private garden. He loves playing games and is always on the go so would benefit from training or trying something new like agility or flyball!
8. Gabriel
Gabriel was a stray cat who came into RSPCA Brighton, in East Sussex, after a member of the public managed to befriend him and take him for help. He was covered in fleas and had a nasty infection in his mouth and needed 14 teeth removed. He's a shy boy but staff have spent months gaining his trust and he now enjoys a fuss. He likes his head rubbed but doesn't like being picked up so will need a calm and quiet home with a patient owner who can give him time to settle into life as a pet.
9. Cupid and Blitzen
A pair of four-month-old kittens who were rescued as strays by Bath Cats and Dogs Home with their mum are looking for new homes and hope their festive names might help them bag a home this Christmas. Cupid and Blitzen were rescued alongside their mother, Vixen, and their littermates and are now looking for a home together. They've not had much human interaction so are looking for a calm, loving home with patient owners. Cupid is a little more confident than his brother, Blitzen, but both would like lots of hiding spots and levels to explore in their new home so they can feel safe.
10. Cracker
Beautiful black puss Cracker is a 13-year-old charmer who is well-loved at our Essex South West branch due to his friendly and affectionate nature. Despite his lovely personality, he is struggling to find a loving home but staff hope his new start wish will come true in time for Christmas. He came into our care when his owners moved house but we believe he's been well looked after. He'd like an adult-only home where he'll be the only pet and will have independence to go outside when he wishes.
11. Dancer & Prancer
One-year-old lop bunnies Dancer and Prancer love nothing more than brussel sprouts - except, maybe, each other! Named after Santa's reindeer, this bonded brother and sister would like to find a home together. They're very active and intelligent; they love to run, binky, forage for food and climb everything! They need lots of space to roam and plenty of enrichment as they can get bored easily. But when they do run out of steam, staff at our Worcester & Mid-Worcestershire branch say they love to snuggle up to their favourite cuddly toys and snooze together.
12. Mrs Claus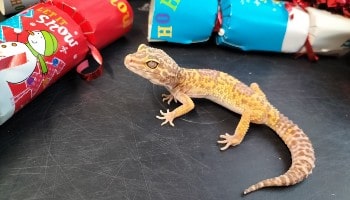 One-year-old leopard gecko Mrs Claus is a sweet little lizard who is hoping to find a magical home this Christmas. She was rescued alongside 67 other geckos that were rescued by our inspectors and is now being cared for by staff at Brighton Reptile Rescue who are hoping to find her a fresh start. Geckos can live for 10-20 years and they can grow up to 25cm long. Mrs Claus is, like all geckos, independent so is looking for a home where she'll live alone in a suitable vivarium with plenty of space, lots of hiding places and the correct heat and light.
Find each other this Christmas
Our spokesperson Amy Ockelford said: "While the festive season may be a time to join together with family and friends, many animals will be waiting patiently to find their new family in one of our rescue centres. It will cost us £4,117 to run an animal centre for one day this winter so we're asking animal-lovers to Join the Rescue this Christmas to make sure animals get the care they need this winter.
"And if you're planning a quiet Christmas at home and would like to offer an animal a new home, please visit our Find A Pet search to find your paw-fect match. Remember, it's a huge commitment taking on a pet and the decision should never be made lightly, but rescuing a pet is sure to be the most rewarding adventure you'll ever embark on!"