Animal lover takes on 12 events in 12 months to raise vital funds for RSPCA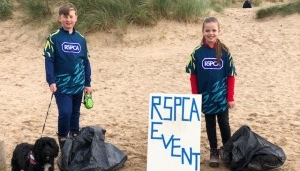 A ten-year-old boy from Merseyside has been raising money to help animals in need by taking on 12 events in 12 months for us.
Owen Marlowe, 10, from Southport in Merseyside, has already completed a five-mile walk and a 15-mile bike ride to raise money for us, and last weekend the young animal lover also organised a litter pick on Ainsdale beach.
His mum, Tamsin Marlowe, said:
In the middle of lockdown, Owen had seen some of the RSPCA adverts on the TV and had become really upset thinking that anyone could treat an animal with such cruelty. He came to me and his dad and said he wanted to start raising money for the RSPCA to help the animals. So we sat down one evening and created his Justgiving page and it started to rollercoaster from there!
Owen knew he didn't want to just do the one event so we decided on 12 events in 12 months. I think with everything that has been going on during the COVID-19 pandemic, this has given him something positive to focus on too.
Tamsin explained that Owen is very close to their family dog Molly, a four-year-old black cockapoo who was sadly injured in a golfing accident a year ago, resulting in her needing lots of vet care and operations. This had a huge impact on the family, especially Owen who started his fundraising challenge on the anniversary of her accident - his tenth birthday. Thankfully, Molly is back to full health and doing well now.
Third challenge complete
On Sunday (18 October) Owen and his friend Kiera Seed completed their third challenge, a litter pick on Ainsdale Beach. They collected a range of rubbish including flip flops, dummies, a scooter and several used fireworks and managed to fill two bin bags full of litter.
Tamsin added:
They both did a great job on Sunday. It was important to them as they want to look after the environment and in turn the animals who live there, so as parents we feel very proud of them.
Wildlife is the biggest victim to litter
We receive around 5,000 calls a year regarding litter and unfortunately, wildlife are the main victims when it comes to people's rubbish - particularly wild birds. On average, we receive 14 calls a day about animals affected by litter and these calls spike in the summer months.
Litter can pose a serious threat to wildlife which is why it's so important that people dispose of their litter properly. We've helped more than 900 animals caught in litter since the start of lockdown.
Support Owens fundraising events
Following the litter pick, Owen and Kiera now plan on completing two more events before Christmas and hope to raise £800 before the end of the year, as well as donating pet food to their local RSPCA.
To support his challenge visit Owens JustGiving page.
If you're inspired by Owen's challenges, find out more about some of our eco-friendly fundraising ideas.
---