Only 100 days left to save farm animal welfare standards in the UK
With just 100 days left until Brexit, we're urging Parliament to act now to ban lower animal welfare standard imports to the UK in the event of a no-deal.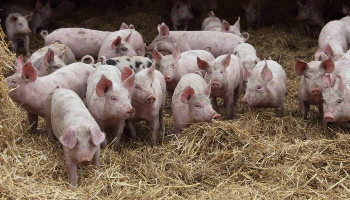 Today marks 100 days until we exit the EU, and this week the Lords are due to vote on a vital amendment in the new Agriculture Bill, marking a pivotal moment for animal welfare in the UK.
The amendment calls on Government to make good on their manifesto promise to ban food produced to lower animal welfare standards and enshrine it in law.
Turning to countries with lower farm animal welfare standards
As the UK seeks new trade deals with countries such as the USA, Australia and Canada and a new Agriculture Bill is being voted on, politicians are faced with a once-in-a-generation opportunity to protect the UK's farm animal welfare standards. Failure to act now could result in a catastrophic weakening of the hard-won protections for millions of animals in this country. It would also threaten UK farmers' livelihoods as they would be at risk from being undercut by imports produced to much lower welfare methods than are legal in the UK.
40% of our food is imported
Our Chief Executive Chris Sherwood said:
"This week marks 100 days to Brexit, which means we only have 100 days to protect farm animal welfare in this country for a generation. Failure to put in place a clear, cast-iron guarantee in the Agriculture Bill to ban imports produced to lower welfare standards than ours could risk setting back animal welfare for many years ahead.
"We import nearly 40% of our food, the vast majority coming from the European Union. But with only three months to go until Brexit, and with the increasing risk of there being no deal with our European neighbours, the Government still has to feed the nation. And that could mean imports from countries with lower animal welfare standards than us, such as the USA, Australia and Canada.
"A manifesto promise, unlike a law, can easily be broken. Without enshrining these protections in law, we rely totally on political promises and risk allowing in products such as chlorinated chicken and hormone beef into the country, against the wishes of the vast majority of the public. Failing to maintain our own animal welfare standards on imports from abroad will cause more animals to suffer as well as threatening the livelihoods of British farmers.
"We call on parliament to do the right thing and agree legislation that will safeguard our hard-won farm animal welfare standards for decades to come."
We're further concerned that the Government isn't prepared to protect animal welfare following the introduction of the Internal Market Bill and the Government's refusal to set out its animal health regime come January 2021.
The UK Government could backtrack on animal welfare
Chris continued:
"The introduction of the Internal Market Bill has increased our concerns that the Government is not committed to stopping products from farm animals reared to lower health and welfare standards coming into this country. The Government has refused to publish their animal health and controls regime for the period after we leave the EU which has raised fears they will ditch the UK ban on imported chicken washed in chlorine or beef from cattle treated with hormones. The RSPCA cannot stand by and watch animal welfare and animal health being bargained away for a quick deal with countries like the USA or Australia which permit these practices."
Help us make sure that imports produced to lower animal welfare standards than our own will not enter the UK. Take action for farm animal welfare.
---