10 year ban for couple who neglected their six dogs
A couple from Durham have been convicted of ten animal welfare offences following a prosecution brought by the RSPCA.
Mr and Mrs Hamilton, were sentenced at Newton Aycliffe Magistrates Court on Wednesday 22 February. They pleaded guilty at an earlier hearing to five offences, each relating to their six dogs contrary to the Animal Welfare Act 2006.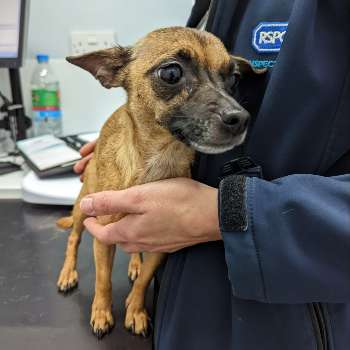 When RSPCA inspector Lucy Green arrived at their property in October 2022 she found all of the dogs were in a neglected state.
In a witness statement read to the court, inspector Green said:
Lexi, a tan-coloured female chihuahua-type dog and Beau, a white crossbreed-type dog were very thin. Beau's hips, spine and ribs were easily visible. He was lying on a sofa before standing up and vomiting onto the floor.
Bella, a black and white female lurcher-type was underweight with hips, ribs and spine visible. Megan, a tri-coloured terrier-type dog, was also very thin. She was long-haired but her spine, ribs and hips could easily be felt.
Oscar, a black and white male crossbreed type dog was also underweight with his hips, ribs and spine easily visible and Ozzy a black and white male lurcher type dog was a little underweight with ribs hips and spine visible.
While in the property Bella put her two front paws in a large empty bowl on the floor. Neil Hamilton went to fill the bowl with water and when he placed it on the floor Bella, Megan, Oscar and Ozzy all drank from the bowl immediately. Lexi was hiding under the table and Beau was still lying on the sofa.
The dogs were taken to a vet for examination and the vet confirmed they were in a suffering state:
Beau was suffering from a gastrointestinal disease as he had diarrhoea and he was emaciated with a loss of muscle mass. The vet gave him a body condition score of one out of nine. He weighed 5.5 kilograms and yet a dog of his breed and type would be expected to weigh around 10 kilograms. Beau was at a stage the vet was considering putting him on intravenous fluids and yet his owners considered there to be nothing wrong with him.
The vet also found Bella was suffering from a fever.
Megan had overgrown nails, had severe dental disease and a fractured tooth likely to be causing her pain. Her overgrown nails were curling which would have made walking painful. She was suffering due to malnutrition - she weighed 6.9kg yet was expected to weigh around ten kilograms. The vet gave her a body condition score of one to two out of nine.
It was discovered Ozzy had previously suffered a fractured front leg after being hit by a car. Elaine Hamilton had taken him to a cat-only clinic at the time and advised her to seek veterinary treatment the following day. However, she failed to do this so Ozzy had been left to suffer from a broken leg without receiving veterinary treatment.
The vet gave Oscar and Lexi body condition scores of three out of nine. None of the six dogs had had their need for adequate nutrition, fresh clean drinking water and veterinary treatment met.
The couple was sentenced to a ten-year ban from keeping all animals, which they cannot appeal for five years. Neil Hamilton was fined £300, ordered to pay £75 costs and £120 victim surcharge totalling £495. Elaine Hamilton was fined £125, and ordered to pay £175 costs and £48 victim surcharge totaling £348 costs.
The court made a deprivation order in relation to all of the dogs, transferring them into the RSPCA's care meaning that the charity can now find them new homes. All of the dogs will soon be made available for rehoming from the RSPCA's Felledge Animal Centre.
Following the sentencing hearing, inspector Green said:
All of Mr and Mrs Hamilton's dogs were underweight ranging from lean to, as stated by the vet, emaciation. Reasonable owners should have noticed this and taken the dogs to a vet to address the issues.
Our plea to all animal owners is to make sure they always receive care and treatment from veterinary experts when they need it.
If people are struggling to cover the costs, there are a number of charities that provide help for veterinary care for pet owners in genuine financial difficulties. People can also work with their vet to spread the cost of treatment.
Pets are completely reliant on their owners to ensure their needs are met and they are kept safe and healthy. Owning an animal is a privilege - and ensuring appropriate veterinary care is a key part of the responsibility we have towards our pets. It's so sad that, in this instance, that responsibility was not met.
How you can help
Could you offer a loving home to a rescued dog? Find out more about rehoming a pet today.
To help the RSPCA continue rescuing, rehabilitating and rehoming animals like these pups, please donate online or call our donation line on 0300 123 8181.
---