NatWest is investing in frontline animal rescue staff
NatWest has provided a £500,000 levy transfer to help expand our apprenticeship programme and invest in frontline staff when it's needed most.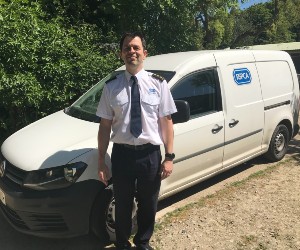 The apprenticeship levy transfer from NatWest has enabled us to upskill even more employees as well as recruit new apprentices from animal care workers, vets, animal collection officers (ACO) and fundraisers.
Amongst those seeking to upskill is Mark Miles, our Chief Inspector for the South East London group - where he has worked for 15 years as chief and a further seven years as an inspector.
He's now carrying out a Level 6 Chartered Manager Degree Apprenticeship (CMDA) thanks to the NatWest levy transfer funding. This consists of a BA degree and an apprenticeship running alongside one another and is spread over three years.
Mark said:
The whole course looked really challenging with a vast array of content covering lots of areas of organisation and management. I've found it really interesting so far but it has been a huge undertaking with a lot of work, and lots more to come. I've no doubt the new skills I'm gaining will benefit my current role and in turn my team and the animals we're so passionate about helping - it will all be worth it!
As a Chief Inspector with a busy schedule already looking after seven inspectors and seven ACO's, I felt lucky that I was able to do something like this to develop my skills. After working in the inspectorate for so long it's been really interesting to learn more about the other areas of the RSPCA and the breadth of the work beyond the rescue teams, and their impact on the organisation as a whole.
Helping our staff develop skills
Mark explained that he has received lots of support from the Open University as well as his line manager and colleagues at work. He continues:
Rather than just doing a degree, this is something that also relates to my day to day work as a manager although the way I've been managing has obviously changed quite dramatically during the Coronavirus crisis and balancing my work with the course through this difficult period has been challenging.
Animal welfare is always at the heart of everything we do which is why by upskilling employees the charity hopes this will positively impact animal welfare through all strands of our work. The lockdown has certainly added another layer of challenges to my course too with lots of online meetings and seminars!
Our staff are dedicated to helping animals
Mark has always been an animal lover and knew he had made the right decision in becoming one of our inspectors when he first went out on his own. He said:
I rescued an emaciated dog and her puppies that had been dumped in a rabbit hutch in the middle of London. It was heartbreaking but really rewarding too knowing that I had made a difference to those animals' lives.
This rescue is one example of more than 100,000 animals which our officers rescue every year. We're the oldest and biggest animal welfare charity in the UK and rescues all species of animals. We rehabilitate animals at our centres and hospitals, releasing wildlife back into the wild and rehoming more than 40,000 animals a year.
Last year, we investigated more than 130,000 cruelty complaints and secured 1,432 convictions, as well as reached more than 100,000 people through our Generation Kind education programme - aimed at preventing cruelty to animals in the future.
NatWest has provided vital support in a difficult time
Kim Hawkins, our senior corporate partnerships manager, said:
We'd like to say a huge thank you to NatWest for their support and investment in our frontline services. Now more than ever we need the support of the public and businesses as we continue to care for animals in need throughout the Coronavirus crisis. Funding for our apprenticeship scheme helps us upskill valuable roles like Mark's and to recruit new staff, all of which helps us in our mission to prevent cruelty and create a kinder society for animals.
Find out more about our apprenticeships.

To help us keep rescuing animals and improving animal welfare through these unprecedented times, please donate online.
---