Meet Tiny: a little rabbit with high hopes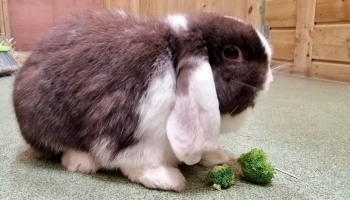 Say hello to Tiny, a year-old lop rabbit who's being cared for at our Canterbury branch in Kent. He was rescued from a multi-bunny household where there was conflict, so he needed a more peaceful life.
Now he's settled, Tiny is getting up to some high jinx. Staff have nicknamed him Houdini thanks to his ability to jump out of his pen.
Natalie Archer, who works at our Canterbury branch, said:
He's very active and known to be a bit of an escapee. I've never seen a rabbit who can jump higher than Tiny!
Could Tiny be the new record-breaker?
Wild rabbits have been known to jump over a 75cm fence, but the Guinness World Records suggest the highest-ever rabbit jump was 99.5cm.
Natalie continues:
"The gate to Tiny's pen is 95cm high and although he did have a little bit of a springboard on the other side, it's still a very high jump."
"It goes to show how active rabbits are and proves keeping them in a small hutch really is no life for them. They need plenty of exercise."
Rabbits love to have space to move around
Natalie added:
"He'll need a nice, secure - and high! - an enclosure as well as lots of space to run around, explore and eat his favourite snacks."
"He just loves climbing and exploring so will need an owner who can provide lots of stimulation and he'd also like to be rehomed with a friendly, neutered female rabbit."
All our branches and centres are closed to the public at the moment due to coronavirus. But once they're reopened Tiny and our other rabbits will be looking for their forever home.
Watch a video of cheeky Tiny, escaping from his pen.
Animal activity
Can you think of any other world records that animals could attempt?
Write a story or create a picture showing what you come up with. Maybe you'll include the world's fastest tortoise, the dog with the loudest bark or the fox with the bushiest tail.
We'd love to see your creations, so don't forget to email them to us at animalaction@rspca.org.uk.