Lopdown lesson: pic of rescue rabbits look like they are homeschooling
An adorable picture of a family of rabbits we rescued in Berkshire looks like the mum is giving a homeschool lesson.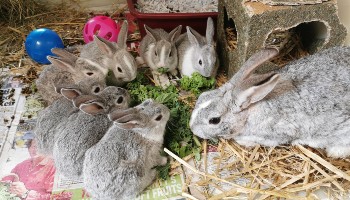 The Beatrix-Potteresque snap would strike a chord with many a harassed parent around the country as the chance picture of the family makes it look like the mum is giving a lesson to no less than seven of her babies.
Rabbits were found being abandoned
Our animal collection officer (ACO) Tasha Clarke rescued the three rabbits - one male and two pregnant females - at the end of March after a member of the public spotted the poor rabbits being abandoned in a cardboard box near a park in Slough. The rabbits were then taken to our Millbrook Animal Centre in Surrey for care.
Both the females gave birth during the lockdown. Clover, the grey rabbit, has seven babies which are around five weeks old and Buttercup, the brown rabbit, has six babies which are now about two and a half weeks old and have just started to come out of their nest and explore.
The rabbits are now doing better
Elizabeth Wood, our deputy manager at Millbrook, said:
Sadly these poor rabbits were abandoned by their previous owner so perhaps they knew they were pregnant and thought they couldn't cope. We would urge owners not to abandon their pets and to seek help from friends and family instead.
The rabbits are all doing well and it's really lovely to see them come out of their nest, start to eat their veggies and grow in size and confidence each day.
We thought the babies looked like they were being homeschooled by their mums in these pictures - and one was a more successful homeschooling session than the other!
Despite enquiries, an owner has not been found so the rabbits will be available for rehoming when they're all old enough. However, we have plenty of bunnies looking for homes for those interested in adopting a pair of rabbits now.
We're still out working for animals during lockdown
Although our centres have closed to the public, we're continuing to provide vital care to thousands of animals across England and Wales at our centres and hospitals and since the crisis deepened at the beginning of March, our animal cruelty line has received more than 60,000 calls.
To help us keep rescuing animals like these and keep our animal hospitals and centres running for emergency treatment and round the clock care through these unprecedented times, please donate whatever you can spare.

---