Lola's remarkable recovery in our care after a severe infection almost killed her
Poor Lola had a severe case of mastitis which had rotted away her mammary glands.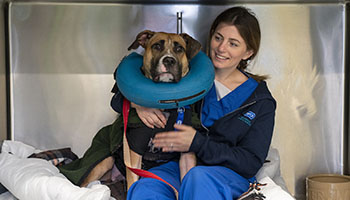 A dying dog who was taken into our care with such a severe infection it caused her mammary glands to rot away, will be looking for a new home in the New Year.
Lola was was hours away from death
Lola, a Bulldog-cross type dog, was taken into our Newbrook Animal Hospital in Birmingham after her owners said they were struggling to cope with her and signed her over into our care on November 18.
An animal collection officer took Lola from a Birmingham address and rushed her into the hospital for emergency veterinary care.
It was clear that she was in very poor health. She was so weak she couldn't stand up.
Staff realised she had recently given birth to puppies and was found to have acute septic mastitis - which is where bacteria enter the mammary gland and it causes an infection. The infection can be fatal if left untreated.
The infection had become so serious it had rotted her mammary glands and teats away - and she was hours away from death.
But following two operations to remove the infected tissue and promote new skin growth, Lola is now doing well and she'll be ready to find her forever home soon.
Lola is now a healthy, 'fun-loving' dog
Sarah Binns, a medical staff nurse at the animal hospital, said:
Lola was in such a state when she was brought to us - she couldn't stand and she was underweight.
We discovered she had sepsis which was caused by an infection in her mammary glands, that was so severe it had caused the breast tissue to rot away.
It was the worst case of mastitis I've seen in my career - she was in a terrible way and must have been suffering for some time. The wounds were septic and without treatment, she would have been hours away from death.
Fortunately in our care, she is thriving within a few weeks. She has also gained a few kilograms in weight.
She's now showing us her lovely personality and she's such a lively and fun-loving dog it's hard to believe she's the same girl who was brought to us a few weeks ago.
Lola will be moved over to Birmingham Animal Centre (Newbrook) soon and she will then be up for adoption.
Looking for a pet?
If you are looking to adopt a loving animal, you can Find a Pet today.