null Kyra Barboutis and Sophie Smith - Young ambassadors
Kyra Barboutis and Sophie Smith - Young ambassadors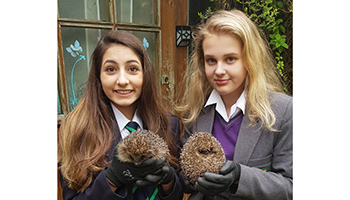 Kyra and Sophie set up an award-winning hedgehog rehabilitation centre Hedgehog Friendly Town when they were just nine years old. Almost 500 hedgehogs have come through their care and they document their work through their popular social media sites.
They're passionate about sharing their ideas on hedgehog conservation, raising awareness with audiences of all ages and getting more people to think about how they too can make a difference. They have delivered hundreds of talks and presentations to groups and schools, head up conservation campaigns and run awareness days.
They have appeared on Countryfile, Springwatch Wild Academy, Saving Britain's Hedgehogs and many other channels.
They have won many awards including the 'Young Person Award' at the RSPCA Honours 2019, and their famous supporters include Sir David Attenborough, Jane Goodall and Professor Noel Fitzpatrick.
To be asked to be young ambassadors for the RSPCA is such an amazing opportunity. They are a phenomenal charity that does so much and we can't wait to support them.
We are proof that it doesn't matter how young you are everyone can make a difference to animals big and small.