null
Our appeal for cat fosterers
Our appeal for cat fosterers
Foster carers needed for the influx of cats and kittens as around three cats every HOUR are admitted into our care across the summer months.
From May to September, is when most kittens are born, and every year our centres see an influx of cats and newborn kittens coming into their care. Often this could be because owners can no longer care for their cats, or the cats have been found abandoned at a young age and need round-the-clock care.
Cat and kitten fosterers needed
Our centres are in need of cat and kitten fosterers to help care for cats during busiest time of year.
Centres and branches across England and Wales are now working hard to care for a large number of cats, from hand-rearing kittens to providing a safe place for mum and her litter. Our hard-working centres rely on fosterers who can provide a calm, home environment away from the cattery.
Alice Potter, our cat welfare expert, said:
"The RSPCA sees on average 86 cats coming into care every day, that's more than three every HOUR. The UK is facing a cat overpopulation crisis with so many cats ending up in our care. This is why we are urging anyone with a big heart and a love of animals to consider fostering cats and kittens for the RSPCA. It's an incredibly rewarding thing to do and eases the huge pressure on our centre and branch staff."
Darryl's story
Darryl Collard, from Wigmore in Kent, fosters for our Leybourne Animal Centre near Maidstone. He has been fostering cats since March this year and so far has cared for a mum and six male kittens, as well as another mum and four male kittens.
Darryl said:
"We've had two foster cat families so far. It's lovely watching the kittens grow each day and develop their personalities. By having them at home with us we can make sure they get used to people and household sounds so they're ready to be rehomed when they're old enough.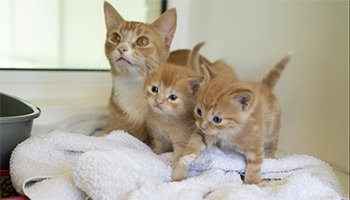 "It's important for the mum to have a nice, calm environment to look after her babies. We'd recommend fostering to someone who wants to help animals but perhaps doesn't have the time to volunteer at the shelter. You can have them in your own home and make them a part of your everyday life."
Darryl spotted that his local RSPCA needed fosterers from a post on Facebook. As a cat lover, with two cats himself and plenty of space, he knew he wanted to help out.
Darryl explained that caring for a mum and kittens is a little easier, as for the first three weeks they often sleep and feed with their mum. During the next few weeks, the kittens become more lively and playful and start making a mess. "It's all part of the fun!" Darryl added.
Abbie's story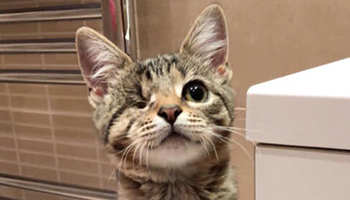 Abbie Harvey, a student vet nurse at our Birmingham Animal Hospital also fosters and hand-rears kittens.
Hand-rearing young kittens who don't have a mum to care for them is a big commitment, as they need to be fed round-the-clock including through the night.
As a 'cat foster mum' volunteers are instrumental in building their strength and helping them flourish into healthy cats.
Abbie said:
"It's a brilliant feeling to see all of my kittens rehomed and I've kept in contact with all the new owners and get regular updates. Fostering these kittens has been such a pleasure and it's so good for them to be positively introduced to household items such as hoovers and washing machines and get the socialisation they need."
Among those Abbie has fostered include tabby cat Poppy, who came into the Birmingham hospital at three weeks old with a prolapsed eye. She needed surgery to have her eye removed and Abbie fostered her whilst she got used to the change.
Chester, a ginger and white cat who came into the hospital at three months old after being found stuck in a drain. He was living as a stray when found and was lame in his back left leg. An x-ray revealed a fracture and so after surgery, he came to live with Abbie whilst he recovered.
She said:
"He's now the most affectionate kitten I have ever fostered and I plan on keeping him. He's part of the family now."
Emily's story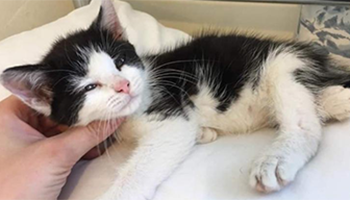 Emily Caddick, Registered Veterinary Nurse (RVN), has worked for us for three years and has been fostering cats and kittens for two years.
She said:
"I love fostering and I would recommend it to anyone who has the time and dedication to do it. Seeing the transformation in the animals from start to finish is really rewarding, and knowing that you've helped prepare them for their lives in a loving home environment is amazing."
Willow was Emily's first foster kitten, equipped with a big personality, and an even bigger meow. The vet staff didn't realise until she was fostered that the little kitten was completely deaf, which is why her meow was so loud as she couldn't hear herself.
Teddy was another kitten who was brought into the hospital in Birmingham for care at four weeks old. He had been found tangled up in barbed wire and had a wound on his side. He was incredibly shy at first but over time with lots of patience from Emily, he became a very affectionate cat.