Kitten defies the odds to be born a male tortoiseshell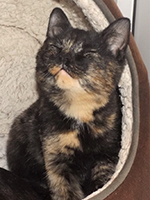 Little 'Miracle' stuns staff.
Male cats, like human males, have only one X chromosome in their DNA - meaning they should be unable to inherit the different colour genes that make up the tortie colouring.
But little Miracle, as he has been named, appears to have defied the odds to be born a tortoiseshell kitten. There are 10.9 million estimated pet cats in the UK - and according to research only one in every 3,000 tortoiseshell cats could be born male.
Miracle and his brother Shadow were taken into our Eau Brink Rehoming Centre, in Norfolk, by their owner and signed over into our care.
It's a boy!
Like all cats that we take in, they were given a health check and an examination - where to the staff's surprise they discovered the tortoiseshell was actually a boy.
Penny Skates, our chairman of the Norfolk West branch trustees, said:
When the cattery staff at our rehoming centre told me we had a male tortoiseshell I just presumed they had made a mistake - and I explained to them you just can't get a male tortie. But when I did take a look at him, it was clear we had a little boy and not a girl.
I have worked with animals for more than 40 years through my work at the charity and I have seen hundreds if not thousands of kittens over the years and not one has ever been a male tortoiseshell.
He's caused quite a stir at our centre because no one has ever seen a male tortie before - we named him Miracle because to us he really is a one in a million kitten.
She added:
He's a gorgeous little character, he absolutely adores his brother Shadow, so when we do look to rehome them they will be rehomed together because they're inseparable.
Why are tortoiseshell cats mostly female?
It's commonly believed that all tortoiseshell cats are female, however, this isn't true. Although (in the majority of cases) tortoiseshell cats are females, there are instances where male tortoiseshells do exist. This is thought to be caused by an abnormality in the genetic make up of the cats.
Juliet Dukes, our senior scientific officer in research animals, explained:
Females have two X chromosomes in each cell, and to avoid overdosing on two copies of the genes carried on them, one of these Xs is inactivated in each cell. Not every cell has the same X inactivated, so we females are genetic 'mosaics'. For torties, this means that some cells have the ginger gene switched on, and others have the black gene switched on.
In the case of this little fella he'll have an extra X chromosome and will be an XXY - and because he has an extra X, but also a Y, he can be a tortie, but also a boy.
A little TLC before they can be rehomed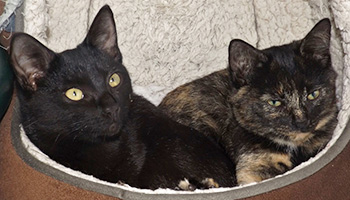 Miracle and his brother Shadow are around four months old and are currently being cared for at our Eau Brink Rehoming Centre near King's Lynn which is run by our West Norfolk branch.
Miracle and Shadow are currently not available for rehoming and will need to take some time in our care first.
We collect more cats than any other animal
This month we launched 'Adoptober', dedicating the month of October to raising awareness of our vital work finding homes for animals most in need.
Last year, we rescued more cats than any other animal. More than 22,000 cats were collected as a result of calls to our national cruelty line. That's the equivalent of more than 60 cats per day! This is more than any other animal nationally and is four times the number of dogs (5,930).
Nationally in 2018, we found new homes for 23,893 cats. Cats just like Shadow and Miracle are looking for their purrfect forever home right now. If you can offer a cat a new home, please visit our Find a Pet page to see all the cats looking for new homes in your area.