Kitten Checklist launches to crack-down on unscrupulous breeders
We've teamed up with other cat and vet organisations to create a 'Kitten Checklist' to help owners spot the warning signs of a bad breeder.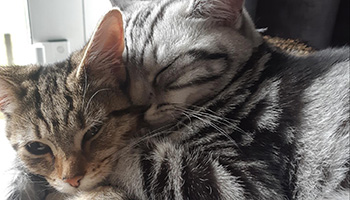 Working collaboratively under the name The Cat Group, we've put together the Kitten Checklist to act as a guideline for anyone considering buying a kitten to know what to look for and ensure a happy and healthy cat.
The checklist includes behavioural traits to look out for (for example, how comfortable a kitten is around people) and common signs of ill health. All of which can indicate whether a kitten has come from a conscientious breeder.
Helping potential buyers to make informed decisions
For those considering buying a kitten, it's important that potential owners see the kitten with the mother in the place where they have been bred. It's also important to get proof of vaccinations and to ensure that the mother and kitten are both healthy, happy and socialised.
Alice Potter, our cat welfare expert, said:
Although we would always urge people to consider adopting a rescue pet instead, for those looking at buying a kitten, we want them to be able to make the most informed decision they can. Sadly, we do see cases of cats coming into our care who have not had the correct vaccinations, care or attention. We hope that the Kitten Checklist will provide vital information and peace of mind for anyone looking to bring a kitten into their home.
When buying from a breeder goes bad
Unfortunately, these owners discovered first-hand exactly what can go wrong when buying a kitten.
Lucie's story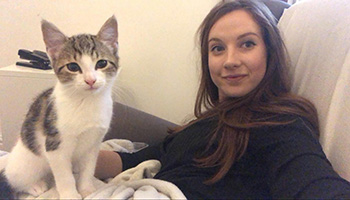 Lucie Boucher from Sheffield bought kitten Daisy on Facebook and learnt the hard way the risks involved with shopping online. When Lucie arrived at the property to collect the kitten, she was told to wait on the doorstep and wasn't allowed to see the mum. Lucie realised almost immediately that the kitten seemed to be very young and was covered in fleas.
Lucie said:
When we collected her she was very dirty and yellow and her nose and ears were full of dirt, and you could see the fleas crawling on her. We took her straight to the vet and were told that she had developed anaemia due to the fleas.
With advice and treatment at a significant cost, Lucie went home and cared for Daisy, needing to feed her every couple of hours as she was too young to be away from her mum. The family cared for Daisy round-the-clock until she was strong enough, old enough, and back to full health.
Aisha's story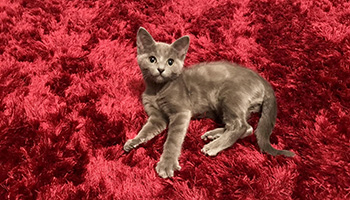 Aisha from Middlesbrough bought her kitten Muezza from a Gumtree seller in Sunderland, after falling in love with a picture of the grey British shorthair kitten online. The advert said he was eight-weeks-old and ready to be rehomed and so Aisha went along to the house to collect him. Sadly, within days, Muezza was showing signs of Giardia, a contagious parasite, and became very ill. Aisha said:
Alarm bells were ringing when I went to the house to collect him. I asked to see the mum and the seller became really on edge. She said the mum was outside and that she couldn't find her. He was advertised as eight-weeks-old but when we got there she told me he was seven and a half weeks (which we now know based on the vet examination) that this wasn't the case - he was only about five weeks old.
The first day we brought him back he was really excitable and full of life and then he just deteriorated really quickly. It took about four vet visits and lots of different medication but he was very lethargic and had diarrhoea. It was so bad that we couldn't even pick him up without him leaking. I had to take annual leave from work to care for him. We kept him in one room as he would have been contagious to our other cat and I was constantly cleaning and washing him as he couldn't control his bowels. He wasn't responsive for so long, I really thought I was going to lose him.
After a week of Muezza being poorly, Aisha decided to contact our helpline and report her concerns.
Aisha added:
It's not about the money, I spent hundreds on him - as well as the vet fees - but it's the principle that he wasn't ready to leave his mum in the first place and he was really poorly.
These stories show why it's so important to buy from a reputable breeder, see proof of vaccinations, see the mother and the environment in which they have been bred, and watch to see if they are well-socialised kittens. All help to ensure you rehome a happy and healthy kitten.
Helping ensure that you rehome a happy and healthy kitten
A Gumtree spokesperson said:
We're sad to hear of these cases, including that of Aisha who found her kitten on Gumtree. We take the welfare of animals very seriously and work hard to ensure our site is a safe place to find pets in need of rehoming. We don't allow 'wanted' ads in our Pets category, as there are plenty of pets to choose from on the site and in sanctuaries across the country. We will also delete any ads we believe are encouraging or indicate signs of animal cruelty. We continue to focus on educating our users on how to buy pets safely and responsibly and would encourage all our users to follow this checklist, as well as our existing guidelines around listings for pets that can be found on our website.
The Government has also announced new licensing regulations for breeders which will ensure better standards for the pet industry. The new legislation means that anyone selling, breeding, boarding, training or exhibiting animals will require a licence from the local authority to show they are meeting the welfare needs of the animals in their care.
The Kitten checklist
More information about the kitten checklist.
Alternatively, find out more about The Cat Group.