How you can meet the pony who recovered after being abandoned with horrific injuries
On Sunday, June 16 we're hosting a range of fun, family-friendly events all over the country to celebrate the diversity of our work - from rescuing and rehoming dogs and cats, to rehabilitating and releasing injured or orphaned wildlife. Your support means we can do all of this and so much more!
Each event is individually planned locally by staff and volunteers who want to meet people like you. They've pulled out all the stops to ensure you'll have a fantastic day. So please, join us at a One Fun Day event, get involved, have fun and make every day better for animals.
On the day, you'll be able to meet animals and humans who share the goal of creating a world that's kinder to animals. One of the special animals you could meet is Elsa...

Elsa the pony is unrecognisable after an intense recovery in our care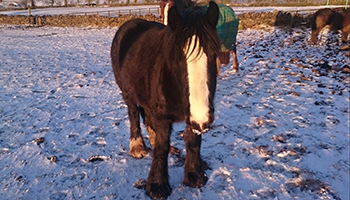 In 2016, two-year-old filly Elsa was discovered, abandoned on a remote lane in Tyne and Wear suffering with wounds on her back legs so deep that her muscle was exposed.
Inspector Jacqui Miller rushed to the scene and called a vet immediately after she saw Elsa "suffering with the worst injuries I'd ever seen on a horse."
Elsa was brought to our Felledge centre for intense care.
Elsa (named after the Disney princess because of the frozen weather at the time) was given strong painkillers and examined by the vet, who discovered that the wounds were not fresh. The damaged skin was rotten and badly infected. It's not known how Elsa suffered her painful injuries but the vet predicted that her wounds were at least three days old.
As her wounds started to heal, the skin became tight and sore, and once she began to go out into the paddock, the staff noticed she was also lame. X-rays revealed poor Elsa was in fact also suffering from 'laminitis' causing the painful rotation of the pedal bone in one of her feet - another serious condition for the young ponty to overcome.
Thanks to painstaking round-the-clock care by the staff at the vets and at our Felledge centre, the specialist equine centre in County Durham, Elsa survived and was ready for fostering a year later.
Elsa is described as a very sweet little pony and even when she was receiving treatment from the vet she was very well-behaved and tolerant, despite the fact she will have been in a tremendous amount of pain from her injury.
Months of specialist treatment and remedial shoeing followed and Elsa bounced back against all odds
Katharine, Elsa's previous fosterer, said:
"To see Elsa now, you would never believe she went through such an ordeal, she is a happy little thing, and her legs have healed so well you'd never tell she suffered so much. The team at RSPCA Felledge have done a wonderful job with her - they even took her to Equifest last August where she won Rescue Pony of the Year."
Yard manager, Lisa Paulin, said:
"When she was first rushed here, suffering so much from her wounds, we really couldn't have imagined her story would have such a happy ending. Her extensive treatment here at Felledge for those ten months cost in the region of £2,000, plus the cost of stabling her which is roughly £12 per day.
"Elsa is one of many, many ponies cruelly abandoned in this country and her story is a prime example that even with the most terrible of injuries, animals can be determined to bounce back against all odds."
Come and visit Elsa
After being in foster care for from October 2016 to August 2018, Elsa is now back in our care and available for rehoming. If you would like to meet Elsa, she's going to be one of our special guests at one of our One Fun Day events in June (at our Felledge centre).
These events help our branches and centres to raise vital funds for animals in need and are a great opportunity to celebrate all animals with like-minded individuals!
Find a One Fun Day near you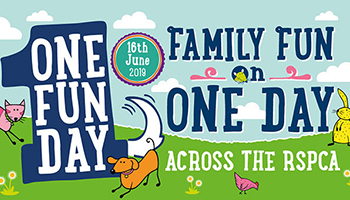 We're hosting One Fun Days all across the country with different fun activities and even some other celeb guests (animal and human!) for you to meet. Kate Lawler will be at our South Godstone centre on Sunday, June 16th and she's looking forward to meeting everyone! Talking about the event, Kate says:
"I'm a huge lover of animals and care deeply about their welfare, which is why I'm an ambassador for the RSPCA. They're a remarkable charity, helping over 100,000 animals every year that have been injured, neglected or abused. I fully support their vision of educating future generations about the importance of kindness and compassion towards animals and I'm thrilled to be attending their One Fun Day with my two dogs Baxter and Shirley.
"Not only is it a great day out for all the family, including your furry friends, but it's a wonderful opportunity for the RSPCA to celebrate the diversity of the work they do. I'm really looking forward to this event and can't wait to meet like-minded animal lovers on Sunday, 16 June."