How we're helping animals fleeing the war in Ukraine
A blog by our chief vet Caroline Allen
Like many others we watched in shock as the horrific war in Ukraine led to many people fleeing the bloodshed and violence with children in tow and in many cases their beloved pets.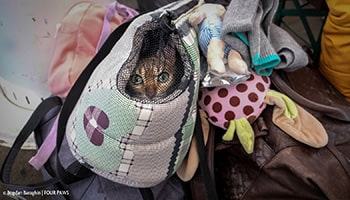 We understand pets are part of our family and we've been moved by the incredible lengths people have gone to ensure their pets get to safety, as well as the remarkable bravery from aid workers and organisations to help those animals who are stuck in war-torn areas.
Within days of the outbreak of war - many of our staff, trustees, inspectors, and volunteers from across the National Society and our local branches, arranged collections of food and veterinary supplies for animals in need, and items for people fleeing their homes. Others arranged transport and delivery of donations over the border.
As part of Eurogroup for Animals, we've been supporting organisations working on the ground in Ukraine, and we donated to the global animal charity FOUR PAWS' appeal for donations to help animals in Ukraine.
We've also been working behind the scenes, along with other animal welfare charities, to support the Government to make it quicker and easier for refugees to enter the UK with their pets.
Our dedicated people have worked tirelessly to adapt one of our animal centres into an isolation unit with space for up to 40 cats and dogs who have escaped the war and travelled to the UK with their owners. Key colleagues are currently being vaccinated against rabies so that we can welcome these animals as soon as it's safe for the team to do so.
We're very lucky in this country to be free of a number of diseases and we've put everything in place to ensure the safety of our amazing frontline workers, the other rescued animals we help and the wider community.
Caring about animal welfare and animals in need has always meant caring about people too. I'm very proud of our teams who have stepped up and worked hard to ensure we can offer practical help which will have such an impact. It's great to know that we will be helping ensure that refugees coming to the UK won't have the added heartbreak of leaving their pets behind. We're all animal lovers with our own pets, so feel great empathy and want to do our bit to help and play a small part in a new start for some of these animals and their families.
---