Herring gull shot dead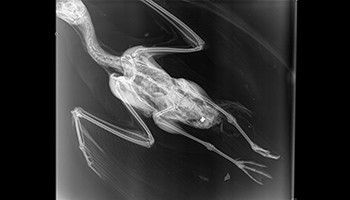 A 19-year-old man shot dead two adult herring gulls that were nesting with their three chicks.
The nest was situated on top of a shared chimney between two properties. One gull fell into a neighbour's garden, the second died in the nest. One of the chicks was later seen wandering around the roof and subsequently sadly fell to its death.
A local Bird Sanctuary attended and rescued the two surviving chicks that were now at risk of starving to death and removed the body of the second adult gull.
Air rifles used on animals
One of our inspectors took the body of the gull to a local vet to be x-rayed. The x-ray clearly showed a pellet lodged inside the bird.
When interviewed, the offender said he shot the herring gulls because they would swoop on him and his dog whenever they went out to the rear of the property. He said he didn't know there were chicks in the nest or that it was an offence to shoot herring gulls. He relinquished his air rifle and pellets to the police.
The man pleaded guilty to intentionally killing two wild birds contrary to the Wildlife and Countryside Act 1981.
Case outcome
Magistrates commented, "This is quite a serious offence as you have become aware". The offender was sentenced to a four-week curfew order and ordered him to pay £300 costs.
The International Union for Conservation and Nature's (IUCN) Red List of threatened species places the European herring gull as 'near threatened' as a consequence of a declining population.
---