Here are just some of the horses we've been helping throughout the crisis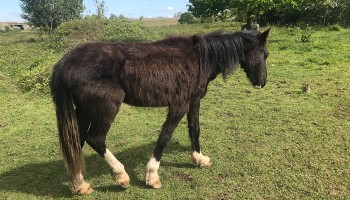 Since lockdown, we've received more than 2,000 reports about horses but fear much worse is to come if, as expected, the Covid crisis sparks a UK and global recession.
A very underweight young pony found
Last month, our inspector Chris McGreal was called to investigate a young pony who was living in a field in Stanford-le-Hope. Local residents had grown very concerned that the pony, thought to be just two years old, was very underweight.
Chris said:
"When I arrived and called over to the pony, he was very friendly and made his way towards me. I could clearly see that he was indeed underweight and so I was very keen to speak to whoever owned him. I left a note on the gate asking the owner to contact me urgently, but unfortunately even after a few days, they never contacted me to claim the colt.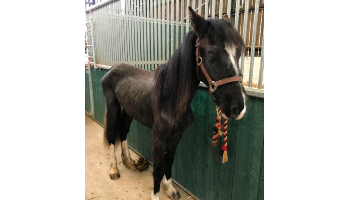 "We had to assume then that he'd been abandoned, and even though he was microchipped, it seemed the details were out of date and we couldn't trace anybody responsible. We arranged for the pony, named Jenkins but nicknamed Wookie, to be transported to a private boarding yard in Essex, who are still working now to treat and rehabilitate him.
"Vets gave Jenkins a body condition score of just 0.5 out of five, so it will take a long time for Wookie to properly recover."
Chris continued:
"This was my first equine incident in my role as a newly-qualified RSPCA inspector, and it was incredibly hard to see a little pony neglected like that. The fact that he was still so friendly just goes to show how amazing animals are, and just how much they need our help.
"Though Wookie has a very long road to recovery ahead of him, we're hopeful he'll be rehomed by loving adopters in the future. I'm really glad we were able to save this lovely little pony, but I know the reality is there are many more every week that aren't so lucky."
14 Shetland ponies' needs not met
At the beginning of May, we were called about a herd of 14 Shetland ponies in Wiltshire after their owner was unable to keep up with their needs, and concerns were mounting for the ponies' welfare. Lack of routine treatment meant their hooves were overgrown, and they were in need of urgent dental work.
Thankfully, our Millbrook Animal Centre in Surrey was able to take all fourteen mares into their care, and they have been making a good recovery during the last few weeks."
The ponies were at an age where care is vital
Charlotte Neary, our equine yard supervisor at Millbrook, said:
These little ponies are such characters, and we're so pleased to see them coming on leaps and bounds since being in our care. They're all older ponies ages between 18 and 28 years old, so they're really at a time in their lives where specialist care is essential to keep them healthy.
However, this of course comes at a great cost, and we just couldn't do the work we do rescuing and rehabilitating ponies like this without the generosity of the public. If we hadn't been there to take in these ponies and take care of them, including vaccinations, micro-chips, worming, foot trimming, lice treatment, and of course their day-to-day needs, who knows what would have happened.
The ponies, named Pollyanna, Bette, Charm, Coco, Alice, Karen, Kara, Cinders, Jodie, Missy, Rainbow, Louise, Cindy and Clementine will be looking for new homes in the near future.
Horse to a happy home
Jemima Puddleduck, a pony rescued from a flooded field in Guildford during Storm Dennis, has been cared for at our Lockwood Equine Centre in Wormley during the past few months.
Jemima had been stranded under trees on a patch of land surrounded by floodwater for some time, and was so hungry she had started to eat the bark off the trees. The flood team helped Jemima to swim across the water and she was taken to the equine centre for care. She was never claimed by her owners, so it's presumed poor Jemima was abandoned.
Thankfully, Jemima has now been reserved for adoption by a loving family, and will soon be on her way to her new home.
---