Help save our planet in 2020 with the Charity Shop Challenge
Are you ready to fight fast-fashion in 2020 and join us for the Charity Shop Challenge?
What is the Charity Shop Challenge?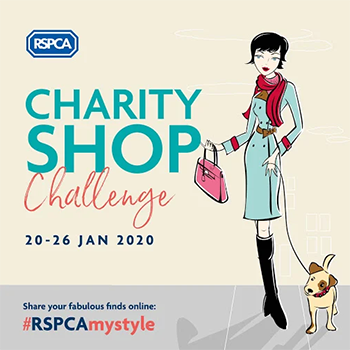 This January, we want to see your #oootd selfies (that's-old-outfit-of-the-day!).
We all know that fast fashion is bad for the environment as well as our wallets and so we're inviting friends of the RSPCA to shop second-hand this month - to save the planet, save the animals and to save some pennies!
For a week starting from the 20 January, we're inviting you to join us in showcasing our favourite upcycled fashion looks and we need you to help spread the word...
Are you up for the challenge?
For one week (from Monday, January 20 to Sunday, January 26) we want to see your #lookoftheday styled with one or more items fashioned from a charity shop of your choice!
Getting involved could be as easy as styling a second-hand scarf or a statement umbrella - all the way to a full second-hand outfit of your choice. The beauty of charity shop styling is that you'll never get caught in the same look as someone else!
Pssst...
Therefore, even if your job means wearing a uniform, you can still wear a scarf, hat or gloves - or post a photo of what you're wearing out of hours. Together we can make a real difference in 2020!
Remember, once you've put together your outfit, make sure to snap your look at our store, at your home, or at work using the hashtag #RSPCAmystyle.
Join us for the perfect selfie!
We'll be kitting out our charity shops with mirror stickers for your perfect no-effort selfies, so pop into your local store and see what you find! Try on your new looks and spread the word on social media to help get others involved too...
At the RSPCA HQ, we're holding a pop up shop - so be sure to look out for our #oootd selfies! Perhaps a second-hand clothes swap with friends or at work will help you find something different that ties your look together?
Why we need you!
We need you to support our re-commerce mission and stand up against the environmental impact of fast-fashion. How? By visiting your local charity shop during your January sales shopping! Saving the world has never been so easy (or looked so good!).
"Charity shops are a treasure chest of fantastic outfits and not only does your purchase help a cause close to your heart but it also curbs the tide of disposable fashion." - Charity Shop Challenge participant.
Still unconvinced that you can make a difference?
An estimated £30bn worth of unworn clothes sits collecting dust in UK wardrobes - while 300,000 tonnes of discarded garments go into landfill or incinerators every single year.
Don't worry, it's not all bad news!
The Charity Retail Association estimates that each charity shop saves 29 tonnes of textiles from going into landfill each year and with over 300 RSPCA charity shops that's around 8,700 tonnes saved - the equivalent weight of over 1,200 African elephants!
While, 'WRAP's 2017 Valuing Your Clothes' report estimated that a 10% increase in second-hand sales could save 3% carbon waste, 4% water waste and 1% waste per tonne of clothing. Meaning - together, we really can make a difference!
Plus, every item purchased from our charity shops also helps to rescue, rehabilitate and rehome animals in need! Remember - shopping doesn't have to cost the world...
We need you to stand with us, our animals and our planet in 2020! Are you up for the challenge?
Ready, set, selfie
This January, help us showcase stylish finds and fabulous fashions bought in charity shops and help spread the eco-friendly message of sustainable shopping.
The Charity Shop Challenge runs from January 20-26 and supports our branches across England and Wales who rely on generous donations from animal lovers to help care for thousands of animals.
We'd love to see your 'second-hand style' so do please post your photos at #RSPCAMyStyle.
Are you up for the challenge? Join us in store for your next fashion-fix!