Having a ball! Bunnies in ball pits highlight importance of rabbit enrichment
We¿re promoting rabbit enrichment to keep the 'UK's most misunderstood' pet happy and healthy.
Our Danaher Animal Centre in Essex has been raising awareness about the importance of rabbit enrichment and are showing off some creative ways to make sure your rabbits are 'having a ball'!
Creative ways to play with your rabbit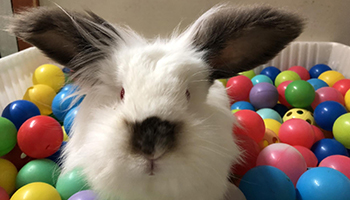 Princess, a Himalayan lionhead rabbit, is pictured here at our centre enjoying her time in a homemade ball pit. Princess has been in our centre's care since March after she was brought in by the inspectors with a respiratory infection which has now been resolved and is now looking for her forever home.
Our animal centre manager, Debs Satchell, said:
"Whether it's cubes or tubes, cardboard boxes, or perhaps shop-bought brain-stimulating 'puzzle' games, there's plenty to choose from to keep our bunnies entertained.
"We try to offer the smaller residents at Danaher plenty to keep their minds occupied and try to change the enrichment we provide them with regularly to avoid them becoming bored."
The UK's most misunderstood pets
Dr Jane Tyson, our rabbit and rodent welfare expert, explained that rabbits are one of the UK¿s most misunderstood pets who are all too often consigned to the end of the garden in a hutch alone.
She said: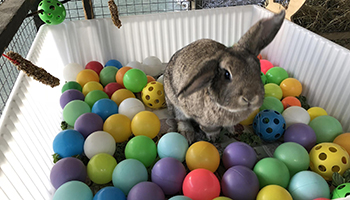 "Rabbits are incredibly sociable animals and need to be housed with at least one other friendly rabbit. They are very active, intelligent animals and benefit from enrichment which can help keep their minds and bodies active and also strengthen the bond between you and your pet rabbits.
"Whilst not all rabbits will enjoy being in a ball pit, for those that do, this can be great enrichment and owners can scatter some tasty, healthy treats in the pit for the rabbits to find.
"It's important they are never forced to enter a ball pit and are always able to escape. They should also always be supervised whilst in the ball pit to ensure they don't hurt themselves or start to nibble on the balls which could be dangerous."