Helping injured and sick wildlife get back to their habitats
Trapped fox rescued from football netting
A young fox was found caught up in netting. He'd been stuck and struggling for some time as he'd pulled most of the netting off of the bar. Foxy was pretty exhausted from thrashing around and was obviously very frightened. He was not injured and was cut free and released.
Stowaway baby pigeons rescued
The chicks 'F-35' and 'Lightning' were discovered on a Royal Navy warship sailing from Portsmouth and bound for the USA. The fluffy pair, estimated to be around ten days old, were found huddled together by a sailor who heard tweeting coming from one of the ship's boat decks. The chicks were recovered by a helicopter before being taken to our West Hatch Wildlife Centre in Taunton, Somerset.
Bertie Badger stuck in wheelie bin!
A Somerset couple had a fright when they discovered a badger staring back up at them inside their bin. The bin was stored beside a shed so the badger had run along the back of the shed looking for food and either fell into the bin or tried to climb down onto it and slipped! He was taken to West Hatch Wildlife Centre to be assessed - thankfully Bertie wasn't injured and he was released shortly afterwards.
Did you know?
We released over 60,000 wild animals back into their natural habitat last year.
Release of Frisbee the seal
After months of rehabilitation, Frisbee, who came into our care with a frisbee trapped around her neck, was finally released back into her natural habitat. In the short video, you can watch the happy moment that Frisbee was released back into the sea.
Caring for wildlife: Our figures
We rescue thousands of injured or orphaned wild animals each year. From wild birds to mammals and even fish, we rehabilitate a range of wild animals at our wildlife centres before releasing them back into their natural habitat. This is all possible because of the support from people like you.
Take a look below to see some of our rescues between January and December 2017.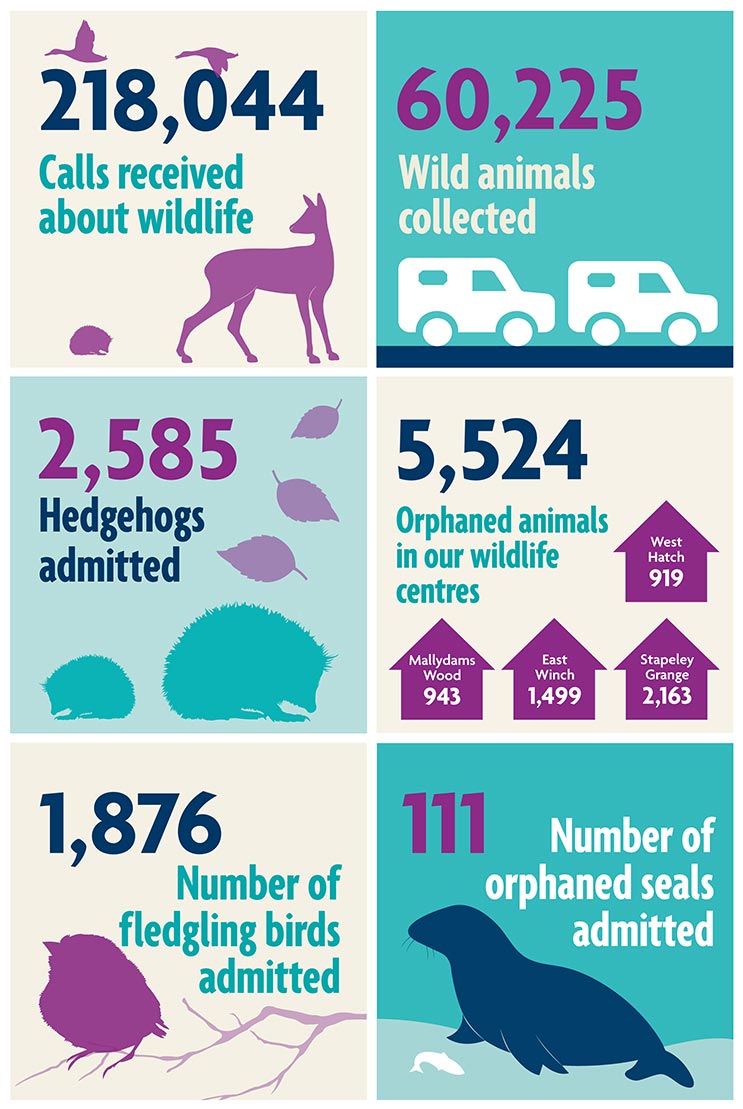 What happens when a wild animal is ready to be released?