Government issues four-month pet passport warning
We're urging pet owners to act now if they want to avoid being turned back at the border when travelling to the EU later this year with their cat or dog.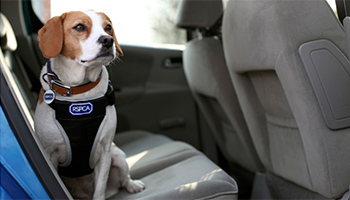 As the Government warns that pet passports could take four months to be processed if the UK leaves the EU without a deal this October, we're strongly recommending that pet owners start their applications now.
Once the UK leaves the EU, current pet passports will not be valid for travel to Europe and a new type of passport will have to be applied for. But if the UK is no longer recognised by the EU as a 'trusted country', essential checks such as rabies testing could take an additional three months to complete, meaning there could be a four-month wait for pet passports to be processed.
Getting the necessary documents could take much longer now
Our head of public affairs, David Bowles, said:
"Anyone who plans to travel with their dog or cat after the end of October 2019 should be talking to their vet right now.
"For the past fifteen years, it has been very simple to take a pet abroad but many pet owners don't realise just how lengthy and complex the process could now become if we leave the EU without a deal. Getting the necessary travel documentation for pets could take much longer than at present - up to four months. And without the right paperwork, pets and their owners risk being delayed or even turned back at borders. Additionally, travel with your cat and dog will only be allowed through a small number of designated ports rather than anywhere as is the case at present."
Making plans to travel with your pet
The government has issued advice on making plans to travel with a pet in a no-deal scenario, including:
Pet dogs, cats and ferrets will need to be microchipped and vaccinated against rabies before they can travel. Pets must have a blood sample taken at least 30 days after their last rabies vaccination (whether that's a booster or initial vaccination). Your vet may recommend a booster rabies vaccination before this test.
Your vet must send the blood sample to an EU approved blood testing laboratory and await the results.
The vet must give you a copy of the test results and enter the day the blood sample was taken on an animal health certificate.
You must then wait three months from the date the successful blood sample was taken before the passport is issued and you travel.
An opportunity to improve animal welfare
We believe that Brexit provides the UK government with many opportunities to improve animal welfare. For example, if the Common Agriculture Policy (CAP) was replaced with a new system of farm support payments, this would incentivise farmers to protect and improve animal welfare standards.
David added:
"Brexit is an opportunity to strengthen animal welfare standards in the UK- but a no-deal result could be the worst possible outcome for the welfare of animals. So we would like to see the commitment to protect the UK's domestic animal welfare standards enshrined in law, in either the Agriculture or Trade Bill and all current animal welfare laws, at the very least, to be retained or ideally improved.
"This means recognising all animals are sentient, a ban on free trade agreements that import products with lower welfare standards as well as improvements in key areas of animal welfare, such as long-distance transport, food labelling, trade of endangered species and puppy imports."
Pet travel to Europe after Brexit
How to prepare for travel with your pet to any EU country whether the UK leaves the EU with or without a deal.