From pig escapes to rare birds - our volunteer drivers have seen it all!
We spoke with Gordon, one of our dedicated volunteers who has been part of our team for nine years now...
Q. How did you first become involved with our volunteer work? What was it that attracted you to volunteer for us?
A. I was lucky enough to be able to take early retirement after forty years earning my living driving Heavy Goods Vehicles. I still felt that I had something to offer, and so I thought that I would like to do some voluntary work, but I wasn't sure what...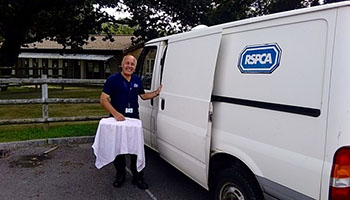 As luck would have it, I noticed a small article in our local paper explaining that the RSPCA were about to start a scheme called "Networking" at our local animal centre and were looking for volunteer drivers.
The article went on to explain that the volunteer drivers would move animals between private boarding establishments and vets to animal centres and branches.
The idea of the role was to free up the Inspectors' and Animal Collection Officers' time so that they could concentrate on the important work that they are trained for. As it was, their whole day could sometimes be taken up moving an animal from one location to another, when that could be done by a volunteer driver instead!
Q. You've been volunteering with us for nine years now - how fantastic! What is the most unusual animal you've moved for us?
A. Several come to mind...
One of the sweetest was a baby European Otter being looked after at West Hatch Wildlife Centre in Somerset. It had been orphaned and was thought to be about three months old. I was asked to move the otter to the New Forest Wildlife Centre where they were going to keep him until he was about a year old and could fend for himself in the wild.
Another unusual one was a Glaucous Gull. They're the second largest gull in the world, larger than a Herring Gull, and are very rare in Southern England. I collected the bird from a lady in Bournemouth who devotes her time and resources to saving wild birds.
Through the spring and summer, I normally go to this particular house weekly to collect all sorts of wild birds; from swans to tiny wren chicks that have fallen out of their nest. I must have moved hundreds of birds over the years, normally taking them to West Hatch (Somerset) but, if they're full, I take the birds to Mallydams (East Sussex).
Another unusual job I've been involved in was helping one of the Inspectors move a pig from a back garden at a flat in Bournemouth! The pig had been living in an upstairs flat, and I was asked to move him to Stubbington, where he would be put up for adoption.
The problem was - I could only get the trailer into the front garden of the property, so we had to try and encourage him to walk along the side of the house and into the trailer. It turned out he loved Corn Flakes - so, walking backwards and shaking the box under his nose - he followed us and that was the start of his new life. You couldn't make it up!
Q. Over the years have any other animal stories stuck in your mind?
A. I think one of the many animals that have stuck in my mind was one who I met on the very first trip I did as a Networking Driver... I was asked to meet an Inspector who was bringing in a dog who was, sadly, suspected of being a banned breed.
As required by law, I was to take the dog to another centre out of the area where a specially trained Policeman would have to inspect the dog. He was quite a young dog and seemed very friendly. This scenario was something that I hadn't even thought of when I started this volunteering role. I'm pleased to say, the dog was found not to be a banned breed and was rehomed, and I hope he's still living a happy life.
This is also a good example of how the Networking volunteers save the Inspector's time - if I, or another volunteer hadn't moved that dog, the Inspector who collected him would most likely have had to move the dog themselves, which could have cost them most of their working day.
Another animal that comes to mind was a Great Dane that I collected from a private boarding kennel in Gloucestershire. He was part of a cruelty case and had been used as a guard dog, forced to live out in the open with hardly any shelter in the yard of a factory. Whoever owned the poor animal had cut off his ears to make him look more fierce, and he had also lost most of his tail to gangrene, was painfully thin and covered in open sores. Yet despite all that, he still seemed to trust people and seek human company.
Sometimes I don't think we deserve these animas' trust and loyalty. Seeing that dog broke my heart, but at least I knew he would get some love and affection now the charity was involved.
Q. What is your favourite thing about volunteering for us?
A. Where do I start?
As an animal lover, the chance to help animals that may be in distress, or in need of a new start. Even with the wildlife I have been involved with, it's very rewarding to see them recover from a trauma or injury and see them returned to the wild where they belong. Getting to see the true scope of the great work that the charity does for all animals in need...
I think the biggest privilege I get from volunteering is the chance to work with some very skilled, passionate and dedicated staff. Both employees and volunteers that work tirelessly day-in, day-out for the welfare and well-being of all animals. These people never seem to get the recognition that they deserve, especially from some parts of the media - it seems very unfair. (I'll get off my soapbox now!)
Q. What would you say to someone thinking about volunteering, or supporting us in some other way?
A. Just do it!
Volunteering is so rewarding. My wife volunteers for another charity and finds that as rewarding as I do. There are lots of different volunteer roles that you can do for the RSPCA; anything from home visiting to driving, dog walking, even helping at reception at an animal centre or in a shop. Whatever you can do to help the charity to help animals in need will always be very welcome.
Fundraising is another very important way that you can get involved. Or even donating food or other items to your local centre can be a great help. If you do choose to volunteer you'll get the chance to learn new skills and meet some very inspiring people. But, most of all, you'll meet some unforgettable animals that will repay your kindness every time you volunteer.
If Gordon's inspired you, why not find out more about volunteering for us?
---