null
Fox cubs come a cropper to tin cans, vases, tyres and walls
Fox cubs come a cropper to tin cans, vases, tyres and walls
As the country stays at home during lockdown, we've been out rescuing animals - including a spate of not-so-cunning fox cubs.
Our animal rescuers - who have been designated key workers by the Government - have responded to 10,817 incidents involving wild birds and mammals during lockdown - including 1,767 involving sick, injured or trapped foxes.
Evie Button, from our wildlife team, said:
Foxes are inquisitive creatures and, sadly, that means they often find themselves in a spot of bother! They're also scavengers and can find themselves in sticky situations after following their noses to potential food.
Our officers are commonly called out to help foxes who have become trapped after falling down gaps or into drains, as well as those who have got themselves trapped in plastic containers, tin cans and even car tyres!
Outfoxed!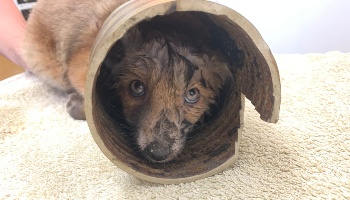 A cub found himself outfoxed by a vase after getting his head stuck inside the ceramic pot.
Our animal collection officer Joe White rushed to a garden in Basildon, Essex, on 12 May after a resident found the distressed cub. She was worried that he couldn't breathe so she smashed the end of the vase and called us for help.
Joe took the cub to a nearby wildlife hospital where they managed to pull him free. He stayed in the hospital overnight before being returned and released back in the garden the following day.
'I wheely need help!'
One of our rescuers had to transport a fox cub across London with his head still stuck in a tyre to get him free.
Our inspector Mitchell Smith was called to a garden in Isle of Dogs on 11 May after a member of the public found them with their head stuck in the middle of a tyre. He tried to remove the fox from the tyre using some sunflower oil - but the fox's ears had swollen up and it was impossible to remove him safely.
He was therefore transported to our Harmsworth Animal Hospital where he was sedated and vets were then able to carefully free him. He was then taken to a local wildlife centre to be monitored.
For fox sake!
A frightened fox cub needed a helping hand after getting tangled in plastic netting in Burntwood, Staffordshire.
The youngster was spotted by a member of the public on 7 May. Our animal collection officer Catherine Strawford went out to untangle the cub from the thick plastic netting that was looped around his neck.
Luckily, once free she could see he wasn't injured so she released him and cut away the fencing - which wasn't being used - and threw it away so no other animals would get caught up in it.
Tintin freed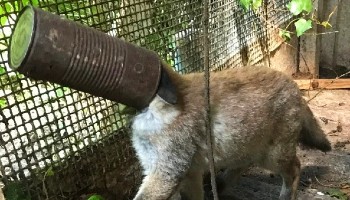 This poor fox cub came-a-cropper whilst looking for his next meal in a discarded tin can in Camberwell, London, on 6 May. He had then made his way into a back garden where, luckily, he was spotted frantically pawing at the discarded tin to free himself.
Thankfully, once we were called, our animal collection officer Mat Hawkins was on hand to help. He managed to free the fox, swiftly checked him over, released him back to the wild and watched him happily scamper off.
'Van you help?'
A fox was at risk of choking to death after getting tangled in a cable loop underneath a caravan.
Our inspector Rebecca Benson was called to a home in Great Wakering, Essex, on 24 April to free the poor fox after the worried caravan owners found him thrashing around. Rebecca cut the cable and removed the distressed fox who had pulled the wire tight around his neck. He was taken to South Essex Wildlife Hospital for veterinary treatment.
In a tight spot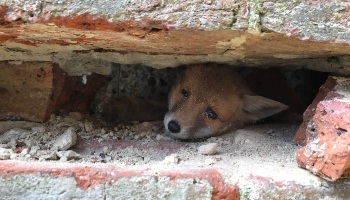 A cub needed a hand after falling into a tiny gap between two walls in Worthing, West Sussex. Our inspector Andrew Kirby went on 30 April after the home owners heard the cub crying.
It's thought the young vixen was walking along the top of the wall when she fell into the tight 6 inch gap and got stuck. The owner of the house managed to make a small hole in the wall and removed a couple of the bricks to reveal her little head but she was still stuck fast. Andrew broke away some of the mortar and carefully wriggled her free and took her to The Fox Project.
What a drip!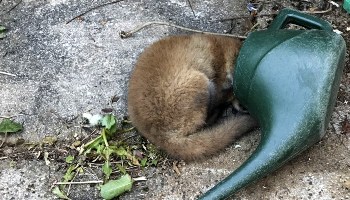 We were called to help a fox cub who managed to get his head stuck inside a watering can while trying to find some water to drink.
Our animal welfare officer Lynn White went to Sevenoaks, Kent, on 14 April after a member of the public spotted the stricken fox. The poor cub was exhausted after trying to get free and Lynn used some Vaseline to lubricate his neck and carefully slide him out.
Despite being soaking wet and bedraggled he wasn't injured so he was released to find his way home.
Found an injured or trapped fox
Evie added:
We'd advise anyone who spots a sick, injured or trapped fox - or any other wild animals in need of help - to contact our emergency hotline on 0300 1234 999.
And we'd urge people to ensure they dispose of rubbish and discarded items responsibly so that wild animals can't come across them and become injured or trapped. Sadly, we deal with around 5,000 incidents every year in which animals have been hurt or killed due to litter.
For more information on what to do if you find a wild animal in need of help, check out our wildlife advice pages.