Five adorable animals currently recovering at our RSPCA animal rescue centre
Our Stapeley Grange Wildlife Centre in Cheshire cares for around 6,000 animals every year - with the summer months being particularly busy for the team! Every day the staff care for a range of different species of wildlife - and the work hasn't stopped during Covid-19 lockdown!
We thought we would introduce you to five animals currently being cared for at our wildlife centre (be warned: they're adorable!).
Hungry baby weasel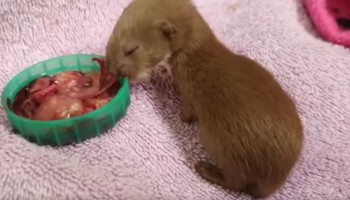 Our animal rescuers recently brought in a baby weasel to our centre after he was found orphaned in Wolverhampton.
Weasels are the UK's smallest carnivorous mammal, rarely growing to larger than 22cms. They are widespread across Britain, found living in a variety of habitats including urban areas, woodland, marshes and moors. They are also very cute.
This little guy is currently being fed meals of fresh meat on a special little plate (which is actually a milk bottle top!).
Fun for fox cubs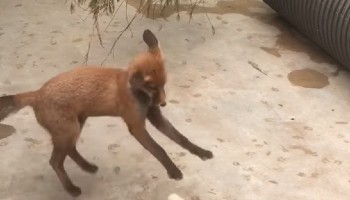 The team at Stapeley set up cameras in some enclosures so that the natural behaviour of the animals in care could be monitored...
This little fox cub loved his enrichment this week - a simple paper roll filled with meat kept this fox cub busy for a while! Our group of fox cubs are all growing fast and will all be released later in the year!
Famous local swan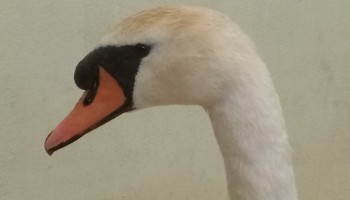 A family of swans which live on Nantwich Lake (near to Stapeley Grange) are monitored by local residents all year round. Recently the male swan came into our care after he looked to be limping.
This isn't the first time that he has been at Stapeley though - and with similar issues! Sadly, he's no spring chicken. Our vet gave him a full check-up and while he does have mild bumblefoot, x-rays thankfully showed that there was nothing too worrying. It's likely that he has chronic arthritis or chronic ligament damage which we will need to monitor!
After spending some days out on one of the pools (on pain meds) it was decided that the poorly swan needed some water hydrotherapy. We want to return him as soon as possible, as we know that he has cygnets to protect, but we need to make sure that he's ready. So, for now, he's having a little staycation away from the family!
Hand-reared voles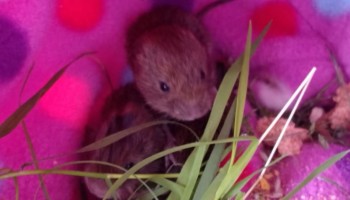 Two baby voles were found on a Chester street by a member of the public...
As they're so young and mum - and nest were nowhere to be seen - they needed to be taken into the team to be hand-reared.
Here they can grow up big and strong before being released back into the world by our hard-working team!
Owls with attitude!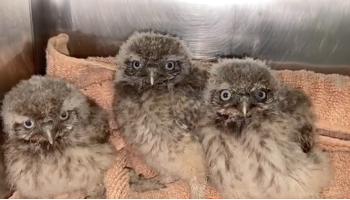 A thunderstorm left these three little owlets orphaned. After being monitored on their own, sadly the conclusion was made that their parents weren't coming back for them and so they came into our care. They're feeding well, and as you can see - they have some serious little owl attitude!
Have you found a baby bird?
When to help and when to leave a baby bird alone usually depends on whether it's a fledgling or a nestling and the species. Check out our visual guide for what to do if you've found a baby bird out of the nest. As always - if in doubt, speak to your local wildlife rehabilitator.
Join us for our fundraiser
The team at Stapeley Grange are organising a Virtual Quiz Night to raise funds for the centre. The event takes place on Saturday 22nd August, from 8pm, on video platform Zoom. Buy your tickets now!