Our 5 wildest wildlife rescue stories from lockdown
Though the country is in lockdown, we're still out and about every day safely rescuing sick and injured animals in need. In fact, since lockdown started our officers are dealing with around 660 incidents a day!
We're still getting a lot of calls about wildlife in particular. Since the Government announced lockdown on 23 March, we've received 11,000 calls about wild animals who need our help. We're also expecting a further surge in calls to come in regarding the rescue of sick, injured and orphaned wild animals as the breeding season starts.
Our 5 wildest wildlife rescues stories from our frontline animal rescuers since lockdown started
Swan saved from the stink!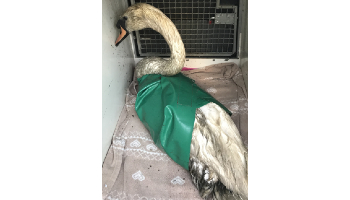 Animal rescue can be dirty work for officers! One of our officers found herself called to a water treatment works in Exeter after a poor swan had become stuck in sewage water. The swan was rescued by our animal rescuer using a rescue pole - but completely covered in sewage water! The swan was taken to our West Hatch Wildlife Centre in Taunton where she could have a proper clean before being released, healthy and happy, back to the wild.
Owl did you get there?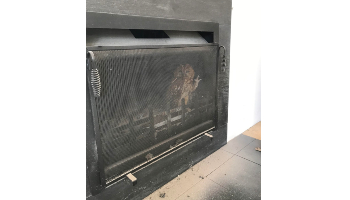 This tawny owl found himself in a strange predicament after falling down the chimney of a home in Oxfordshire. We were alerted when the homeowners heard scratching and after investigating, saw the owl peeking out through the fireguard! Our animal rescuer successfully rescued the owl - covered in soot and a little underweight. Luckily, he's now at a wildlife hospital where he's being rehabilitated.
You won't out-fox me!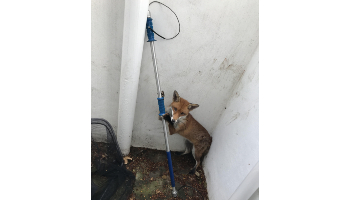 Since the start of lockdown, our animal rescue team have also been called about a fox who had got himself stuck in a lightwell at a block of flats in North London. Our officer attended with a rescue pole to safely get the fox to freedom - but when he turned his back for a second to open up a cage to get the fox into, the animal found a cunning way to out-fox him - by holding onto the rescue pole! Our animal rescuer on the scene managed to get the bold animal into the cage eventually and the uninjured fox was then safely released to a safer location!
What a bird brain!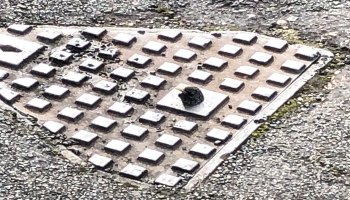 A starling needed a hand to free himself from a drain after he got his head stuck in a hole in Downham Market. Our officer managed to safely free the animal by lifting up the drain cover. The bird was taken to our East Winch Wildlife Centre in Norfolk for a check-up and was thankfully left uninjured from his ordeal.
Well, well, what do we have here?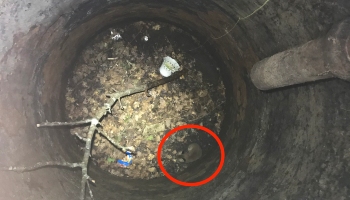 We were called to rescue a young fox cub after the poor animal had fallen 12ft down an unused well in a Hertfordshire village. We were alerted after a member of the public heard crying deep in the well. Our officer managed to safely retrieve the lost fox using a net. The fantastic fox was then checked over by our animal rescuer and thankfully, the fox showed no sign of injury and could be instantly released back to the wild (where he made a quick dash back to his nearby den - and his mum!).
How you can help
Despite the lockdown, our rescue teams are continuing on the frontline as designated key workers and we've launched an emergency appeal to help us continue to rescue, rehabilitate and release the animals most in need through the crisis.

---