null
One fifth of dog owners believe it's okay to leave pets alone for more than 24 hours
One fifth of dog owners believe it's okay to leave pets alone for more than 24 hours
We're calling on the public to be #DogKind this Christmas following shocking survey results.
We're urging the dog-owning British public to be aware of separation anxiety as survey reveals that a fifth of dog owners believe it's acceptable to leave their dogs home alone for more than 24 hours.
How you can be #DogKind this Christmas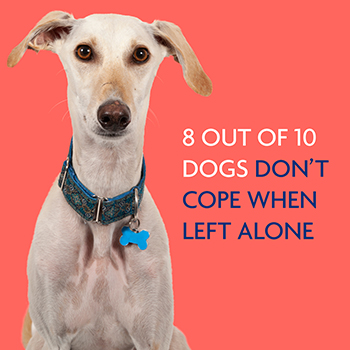 We're urging dog owners to ensure they have considered appropriate care for their pets as the busy Christmas season approaches.
As part of our #DogKind campaign, a survey revealed that 21 percent of dog owners felt it was acceptable to occasionally leave a dog alone for more than 24 hours - while 39 percent said their dog is home alone for seven or more hours on an average day.
Our #DogKind campaign manager, Daisy Hopson, said:
The festive season is nearly upon us and we know that it's a busy time of year for most families. As people prepare for office parties, long days out Christmas shopping and plan to go away for the holidays, it's extremely important that dog owners consider their pets too.
For those dogs who are happy being left home alone, we recommend leaving them for no more than four hours at a time. If you're going to be out more during the festive season, have you thought about how to help your dog? Perhaps you could ask a friend or relative to pop in and give your pet some company? Or, do you need to hire a dog walker? Perhaps your pet can come with you when you go away to visit family? These are really important questions that your dog will appreciate you asking.
Millions of dogs could be struggling to cope when home alone
We launched the #DogKind campaign in March, in a bid to help millions of dogs in the UK who could be struggling to cope when they're left home alone.
Daisy added:
We know that many dogs form very strong bonds with their owners and for some dogs, being left alone can be extremely difficult. Unfortunately, many dogs don't know how to cope when their owner isn't at home and become unhappy when left alone.
Research has suggested that 85 percent of dogs may suffer from separation-related anxiety, feeling frightened, lonely or sad whenever their owners head out to work or pops out for the evening.
Up to 50% percent of dogs don't show signs that they're struggling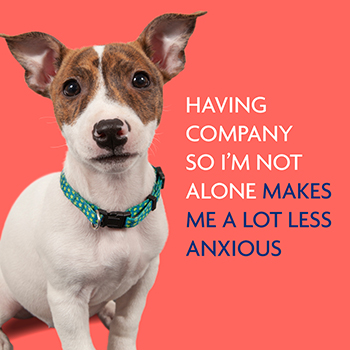 We found that owners are aware of separation related behaviour in dogs - with 53 -percent saying they've heard of it and 44 percent saying it seriously impacts on dogs.
But many may find it difficult to recognise the problem, as up to 50% of dogs don't show any obvious signs that they're struggling with separation related behaviour and so it's easy for owners to miss. This is one of the reasons we're urging people to check for hidden signs, such as pacing or excessive lip licking, by filming their dog when they're out.
Our dog welfare expert, Dr Samantha Gaines, said:
Some dogs who suffer when they're left home alone may display quite obvious signs - such as barking, whining, toileting or destroying things. But others will simply sit there, suffering in silence, which means you may not know if there's a problem.
Thankfully, you can help your dog learn that it's okay to be left alone and there are techniques you can try at home to help your dog feel happier when you're out. We hope that #DogKind will highlight this problem and help owners ensure that their beloved pet is happy.
If you're concerned that your pet may be displaying signs of separation related behaviour then we would strongly recommend speaking to your vet or a clinical animal behaviourist for some specialist advice tailored to his or her needs.
The aim of our #DogKind campaign is to help owners better understand their dogs' emotional needs and to raise awareness of separation related behaviour, especially the fact that it's preventable and treatable.
Find out more about #DogKind.