Fierce fundraisers: Why I chose to swim 5k in wild waters
We chatted with Michelle Sidley, our operations support manager and passionate fundraiser all about her latest money-raising adventure... A 5k wild swim in Shoreham's River Adur.
Q. What made you choose a wild swim as your latest challenge?
A. Despite trying, distance running is not for me! I find I get out of breath very easily. I've not been on a bike for years either. So, as a challenge event, I thought this was really different - it was also local and I was a strong swimmer as a child. For me, swimming is an easier option!
Q. Why did you pick the RSPCA as your charity of choice?
A. I can't think of a better animal welfare charity, simply because RSPCA helps all species. The work the team do in terms of volume and breadth, simply cannot be compared to any other. And, sadly, some people seem to misunderstand that large charities need the money just as much as the smaller ones! So, I wanted to raise what I could and I roped in a friend too!
Q. Have you done much fundraising before or was this your first experience?
A. I've undertaken a sponsored walk before for a wildlife charity and did a sponsored slim for a local hospice, but I have never been able to raise as much as I did through this event. People would sponsor us simply because of the challenge itself and the training. In the end, between us, we raised around £1,000 including Gift Aid!
Q. Amazing! What did your training regime look like?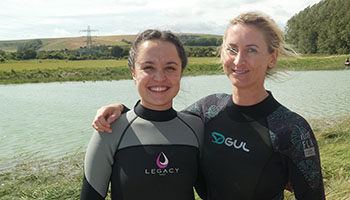 A. We started about six weeks beforehand, training twice a week in the evenings. Fortunately for us, a friend of the family has their own pool so we had it to ourselves! We probably could have done with longer to train, but we built up the number of lengths we did every evening. We finished with 250 lengths of a 10m pool, so about half of the challenge length!
Q. What was the biggest challenge on the day?
A. Firstly, arriving to find that the vast majority of people were regular challenge swimmers and were taking part in race style. So, they all sped off doing front crawl and we plodded along at our own pace doing breaststroke! But, we completed it and only 7 minutes behind the last person ahead.
Secondly, the wind picked up just as we got into the river, meaning as the river curved around the water was choppy. Being tidal, it was salty water so having it splashing into our faces and mouths was not pleasant - at one time I was swimming blind as the salt had set to my goggles! Once the wind dropped, swimming in the calm was so nice - with swans bopping along nearby!
Q. Most importantly, how did you celebrate finishing?
A. A good stiff drink! Followed by a nice calorific vegetable korma that evening :).
Q. What would be your advice for anyone looking to get involved in fundraising?
A. Pick something that you enjoy doing and go from there... Online sponsorship makes it so easy to collect donations, as well as Gift Aid which can really add up. But do also have a paper form for those who do not use the internet. Social media really helps you to share what you are doing and don't be afraid to let your colleagues know at work too - emails, posters etc.
If you add something personal to your story (why you are doing it, what the charity does, what their sponsorship will help you to achieve) it makes all the difference. And, don't forget to thank the people that sponsored you and tell them how you got on/what you raised after the event!
Feeling motivated?
Are you feeling motivated to make fundraising one of your 2020 goals?