Who let the dogs out? 10 reasons you should bring your dog to work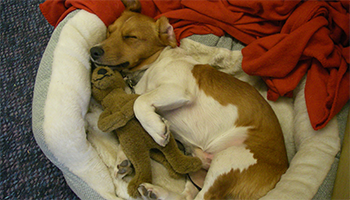 20.06.19
It's 'Bring Your Dog to Work Day' tomorrow (21 June) and to celebrate, we're sharing our top ten reasons why it could be good for both business and our four-legged friends.
Of course, every day at the RSPCA HQ is 'Bring Your Dog to Work Day'. Now, our four-legged friends are calling on more businesses and employers to consider the possible benefits of allowing staff to bring their dogs into work...
Our top 10 benefits to bringing your pooch to work
Besides the obvious benefits to having your furry friend with you each day, here are our favourite benefits to having dogs in the workplace. Bringing your dog into work can help to:
Improve animal welfare
Improve the lives of dogs who find being left home alone stressful
Make it easier for rescue organisations and charities to rehome dogs
Improve the bond between dog and owner
Boost productivity in the workplace for dog owners and their colleagues
Create a social ice breaker in the office environment
Improve communication and friendships among colleagues
Reduce stress and boost confidence and optimism
Encourage healthy living, exercise and the chance for a proper break in the open air
Encourage responsible dog ownership
Both dogs and humans benefit from a dog-friendly office
Dr Julia Wrathall, our chief scientific officer, office dog owner and lead on our dogs at work policy, said:
"If more companies and offices gave employees the opportunity to bring dogs into work it could help to make the job of rehoming dogs easier.
"It would improve the lives of thousands of dogs who are currently left at home alone for significant periods of time but it's important to be aware that it won't suit all dogs as some may find a busy office environment stressful.
"There are also a number of benefits for people who work in a pet-friendly environment - they may experience less stress at work, which could lead to better performance and fewer absences.
"Dogs encourage regular breaks, which can boost productivity and help with problem-solving and creative thinking, as well as help us build workplace relationships. The presence of a dog in the office can even increase the level of trust between team members and encourage people to collaborate. Dogs also promote exercise and going on a walk during the lunch break and before/after work makes us more productive, gives us more energy and helps us concentrate.
"When we stroke animals our bodies release oxytocin, a hormone that may bring us closer together with the people around us and can make us feel more confident and optimistic. It can be a really positive experience for everyone."
We have dozens of office dogs here at RSPCA HQ
Here at the RSPCA HQ, we have a formal 'dogs at work' policy to ensure that having dogs at work is a positive experience for everyone, humans and canines alike!
Our office policy aims to create a scheme which could lead by example and practice what we preach, both as a progressive employer and as an animal welfare charity. We want to offer staff the option to bring dogs to work in order to better meet their welfare needs; as well as to promote the fostering and rehoming of dogs rescued by our hard-working team.
So this 'Bring Your Dogs to Work Day', our office pooches including Anna, Baby, Dotty, Heidi, Hugo, Khaleesi, Quinn and Sammy are urging more employers to give it a go!
Are you looking for a dog to give a forever home too?
Browse our lovely pooches now on our Find a Pet page.
---