Dog survives hot car trauma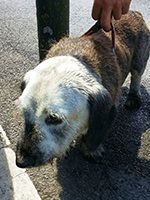 A crossbreed dog had a very lucky escape after members of the public spotted he had been left tied up in the boot of a car on a sweltering June day.
Witnesses in a superstore car park saw he was in a distressed state. He was barking and panting heavily with drool around his mouth. Staff made attempts to reach the car owner via two PA announcements but the owner failed to return to the car that had been parked in direct sunlight. We were called along with the police for urgent assistance whilst bystanders squirted water into the car through the windows that had been left open an inch. The dog licked the water from cardboard that was lining the back of the car however it evaporated quickly due to heat within the car - highlighting the high temperature he was trapped in.
Police arrived and, following discussions with one of our officers, smashed the glass of the rear window. The car doors wouldn't open due to the central locking, so a police officer unclipped the dog from his collar and removed him through the broken window. The temperature was approximately 23 degrees outside - but had reached 55 degrees in a neighbouring vehicle, demonstrating how dangerous the situation was.
Dog's owner cared more about his car than his dog
When the dog's owner eventually returned to the vehicle he accepted no responsibility for the situation but was instead concerned about his car's broken window. He told police that this was the fourth time that people had spoken to him about leaving his dog in the car and he would have to find another supermarket to shop at where people would mind their own business. He argued that conditions were ok for a dog to be in a car and that it had been cooler earlier. Our inspector told him that his attitude was disgusting and that he had been lucky that his dog hadn't died.
Conclusive veterinary evidence determined he had suffered as a consequence of the ordeal. The episode caused the dog to suffer from hyperthermia, a condition of having a body temperature greatly above normal.
Our inspector said:
This was a disgusting and wholly inappropriate way to treat a dog.
Hot vehicles are potential death-traps for dogs; and [the poor dog] suffered unnecessarily and was left with hyperthermia, as a result of this individual's negligence.
He had been left tied up in the back of this car with no means of a safe escape. The weather was sweltering - like it had been much of the spring and summer - and my vehicle nearby reached temperatures of 55 degrees.
Members of the public at the store were left hugely distressed by the incident, with the dog dangerously overheated. Thankfully, the consequences were not fatal - but could easily have been so.
This is a serious animal welfare offence - and we want to see prosecutions like this act as a robust deterrent to future offending, which can be so dangerous for dogs, potentially causing them heat stroke and other major complications.
Case outcome
At court, the man pleaded guilty to causing unnecessary suffering to his dog under Section 4 of the Animal Welfare Act 2006. He was ordered to pay a £295 fine and £300 in costs.
---