Dead fox on lead found with facial injuries
We're appealing for information after the fox was found on a footpath in Wirral.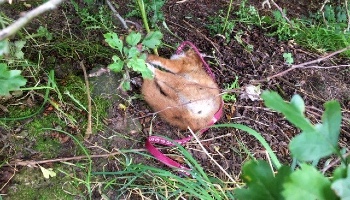 A member of the public contacted us after making the shocking discovery on the Wirral Circular Trail near Leasowe Lighthouse on 6 July.
The fox may have been used for baiting
Our inspector Leanne Cragg, who's investigating, said she believes the fox's death is suspicious due to the fact that the fox was on a lead, was wearing a collar and that the facial injuries are consistent with having been used for baiting.
She said:
We don't know for sure how the fox got these injuries but I strongly believe they were caused by the fox being used for fighting with another animal. It's also very suspicious that the fox was found on a lead and wearing a collar so could have been bred in captivity.
This poor fox is likely to have suffered before dying and I'm keen to find out any information from anyone who knows about this incident so we can look into it further and determine if any wildlife offences have been carried out.
Contact our appeals line with information
Anyone with information should contact our appeals line on 0300 123 8018, leaving a message for Inspector Leanne Cragg.
We're continuing our vital work rescuing animals during the Coronavirus crisis. To help us keep rescuing animals and keep our animal hospitals and centres running for emergency treatment and round the clock care through these unprecedented times, please donate whatever you can spare.
---