Cat shot and left to suffer
We were called about a cat who had a severely infected eye and facial injuries. The cat had been left untreated for so long, he needed long term veterinary treatment and his eye had to be surgically removed.
The cat's eye was severely infected
On attending the property our inspector could immediately see that the cat's left eye was sunken into his face - it was barely visible due to the amount of yellow and green discharge surrounding it. He also had blood and yellow discharge coming from an injury above his left eye.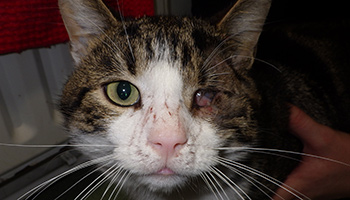 The cat's owner told the inspector she believed her cat had been shot with a pellet gun three months earlier. She went on to say that she hadn't taken him to a vet, but claimed a family member had given her antibiotics and treated the cat herself.
The woman was told that the cat was in urgent need of veterinary attention and agreed that the inspector could take the cat to a vet for treatment. The vet confirmed that the cat was in pain and suffering. Police took the animal into possession and the cat received immediate treatment and pain relief. He required anti-inflammatories, eye drops and antibiotics.
Owner changed her story
During the course of an interview, the woman changed her account when asked to explain how long her cat had been in the state he was in and when she had self-treated him. She said she had cleaned the eye with neat Dettol and got the pellet out herself. She didn't appear to show any remorse about how long she had allowed her cat to suffer, or her failure to seek veterinary treatment.
The woman was sentenced to 40 hours of unpaid work and ordered to pay £300 costs. Magistrates issued a deprivation order for the cat which allowed us to find a new home for him.